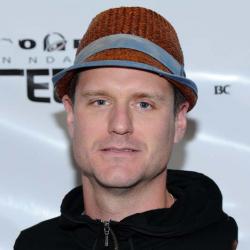 Estlin Feigley
Entertainment & Media Industries Program, Communication Studies Department
Estlin Feigley has been a professional film director since 1999 when he produced and directed his first feature film "Toll Bridge to Iowa." 
Since then, he founded Dreaming Tree Films, which produces corporate videos and commercials, as well as Fresh Films, a 501c3 production company whose mission is to make filmmaking accessible to young people around the country. 
Since founding Fresh Films in 2002, Feigley has led more than 110 different teen film-crews in the creation of over 150 shorts, TV shows and feature films. More recently, he directed "The Stream," a family comedy featuring Mario Lopez from "Extra" and Rainn Wilson from "The Office" that was released in theatres or on DVD in 12 countries. 
Feigley also wrote and directed the new children's television show "Moochie Kalala Detectives Club," a half-hour series that was nominated for an Emmy award after it debuted on PBS.
Additional directing work includes the film "Alternate Universe," starring Steve Guttenberg. Feigley (shown as G. Feigley on Arches) will be teaching courses included in the college's new entertainment & media industries program as well as continuing to lead student interns on Fresh Films projects.
Education
B.A., History and Classics, Augustana College
M.F.A., Theatre Arts/Acting, University of Iowa