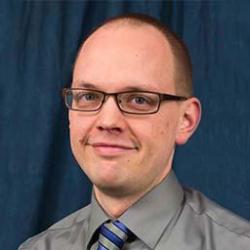 Jacob D. Bancks
Associate Professor and Co-Chair, Composition, Musicianship
Praised as "invitingly lyrical, colorfully orchestrated" (The New York Times) and "highly caffeinated" (The Boston Globe), the music of composer Jacob Bancks (b. 1982, Fairmont, Minnesota) engages and inspires musicians and audiences around the world.
At the core of his output are works for orchestra, with performances by the St. Paul Chamber Orchestra, the Sarajevo Philharmonic, the Annapolis Symphony, the New York Youth Symphony, the South Dakota Symphony, and the Eastman Philharmonia. His work was selected in 2015 for the Nashville Symphony's inaugural Composer's Lab, and in 2016 he will present his third commission for the Quad City Symphony. Other ensembles that have performed his work include eighth blackbird, Pacifica Quartet, American Modern Ensemble, Schola Antiqua of Chicago, Cantori New York, Eastman Wind Ensemble, OSSIA New Music, Kobe (Japan) City Philharmonic Chorus, Kyoto Gewandhaus Chor, and Spektral Quartet. Among his most significant projects are repeat and close collaborations with marimbist Makoto Nakura, mezzo-soprano Julia Bentley, pianist Kuang-Hao Huang, and the United States Marine Band.
Passionate about connecting with and developing audiences, he is a frequent commentator on WVIK public radio and serves as program annotator for the Quad City Symphony. Recordings of his music have been released by American Modern Recordings and broadcast on BBC Radio 3, American Public Media's Performance Today, and WFMT-Chicago Classical Radio. He has earned awards, honors, and commissions from the American Academy of Arts and Letters, BMI, the Tanglewood Festival of Contemporary Music, the U.S. Department of Education, Soli Deo Gloria, the International Double Reed Society, the Hanson Institute for American Music, and the Commission Project.
A student of Shulamit Ran, Marta Ptaszynska, Carlos Sanchez-Gutierrez, Ricardo Zohn-Muldoon, and Augusta Read Thomas, he also participated in masterclasses with Luca Francesconi and Louis Andreissen. His other mentors include Cliff Colnot, Daniel Horn, and Ray and Sue Sidoti. He holds degrees from the University of Chicago, Eastman School of Music, and Wheaton College (IL).
At Augustana he teaches classroom courses and private lessons in music composition and theory.
Specializations: Composition
Education
B.M., Wheaton
M.M., Eastman
Ph.D., Chicago