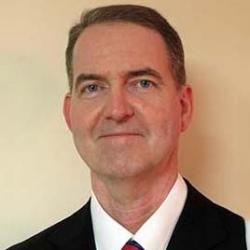 John S. Delaney
Professor of Accounting, S. James Galley Endowed Chair in Accounting
Dr. Delaney is the 2014 Illinois CPA Society Outstanding Educator, and he currently serves as chair of the Accounting Department.  
Prior to coming to Augustana, he held administrative and teaching positions with St. Ambrose University and Loras College. 
Before he became an educator Dr. Delaney spent 17 years in business working as an accountant and auditor for a large regional public utility and a multi-national agri-processing company. He serves as Augustana's Faculty Athletics Representative and his research interests include ethics, fraud investigation and auditing.
He was born in Fort Madison, Iowa, and completed his undergraduate work at Loras College where he received a B.A. in accounting (1982). His master of business administration was awarded by the University of Iowa (1995), and his doctor of business administration degree was awarded by St. Ambrose University (2005).
Specializations: Ethics, Fraud investigation, Auditing
Education
B.S., Loras College
M.B.A., University of Iowa
D.B.A., St. Ambrose University
C.P.A., Illinois
C.M.A., C.I.A.