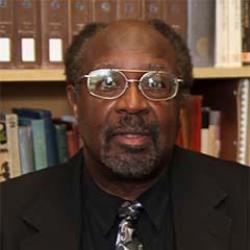 John W. Hildreth
Gassman Family Professor of Music, Musicology, Ethnomusicology
Dr. John W. Hildreth is a native of Evansville, Indiana. He began his musical studies there with Eva Crawford Brooks with whom he studied piano. He later entered the Preparatory School of Music at the University of Evansville while a student at Lincoln High School. There he studied piano with Margaret Shepherd and organ with Gerald Clark. In 1959 he won the Arion Music Award at Lincoln High School.

After graduating from high school, he continued his education at Concordia College in Milwaukee, Wisconsin. While there he was a member of the college chorus, the brass choir, and was choir tour accompanist and chapel organist. He continued his studies at Concordia Senior College in Fort Wayne, Indiana where he chose music as an academic concentration and served as chapel organist. He received the B.A. Degree from Concordia in 1965.

In 1967 he began studies with Professor Robert Reuter at Chicago Musical College, Roosevelt University, Chicago, Illinois in organ and church music and also studied piano with Felix Ganz. He was on the Dean's List and was the recipient of numerous music scholarships. He received a B.M. Degree in organ and church music in 1969 and an M.M. Degree in organ and church music with Highest Honors in 1970 at Roosevelt.

He began his doctoral work at the Northwestern University School of Music in Evanston, Illinois and completed the Ph.D. in Musicology and Ethnomusicology in 1978 under the direction of William Porter, Theodore Karp, Aarond Pasrons and Klaus Wachsmann. He also studied piano with Francis Larimer and harpsichord with Dorothy Lane while at Northwestern.

Dr. Hildreth has served as organist and choirmaster at various places, including Augustana College where he served as chapel organist for a number of years. At present he serves as organist and choirmaster at Trinity Episcopal Church in Rock Island, Illinois. He is on the faculty of the Music Department at Augustana College in Rock Island, Illinois where he has completed 30 years of service and now holds the rank of full professor. He has taught courses in the History and Literature of Western Music, Music Theory, Music in General Studies, History of American Music, African-American Music, Women in Music, the Art of Listening and Ethnomusicology, and has published his own materials for teaching in these areas.
Education
B.A., Concordia (Fort Wayne)
B.Mus., M.M., Roosevelt
Ph.D., Northwestern