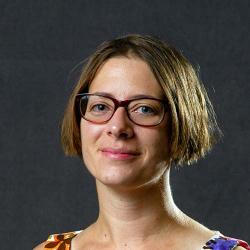 Kiki Kosnick
Assistant Professor of French
Pronouns: they/them or proper pronouns (K or ki) / en français: iel
Gender-Inclusive Language Resources
Kiki Kosnick received a Ph.D. in French and Gender and Women's Studies from the University of Wisconsin-Madison (2016) and joined the Augustana faculty in 2017 after teaching at Grinnell College for three years. 
At Augustana, they teach courses in French language and literatures and cultures of the French-speaking world. They also regularly offer a Queer Theories course for the Women, Gender, and Sexuality Studies program in addition to teaching in Augustana's First-Year Inquiry sequence. 
Dr. Kosnick currently serves as Augustana's LGBTQ+ liaison. Please email them if you are seeking support and/or if you have ideas for campus workshops or resources to share. 
Dr. Kosnick has presented and published on authors including Nina Bouraoui, Anne Garréta, and Monique Wittig. Their 2019 article in Modern & Contemporary France, "The Everyday Poetics of Gender-Inclusive French: Strategies for Navigating the Linguistic Landscape," won the MLA Women's Caucus 2019 Florence Howe Award for outstanding feminist scholarship. Their related essay, "Inclusive Language Pedagogy for (Un)Teaching Gender in French," is forthcoming from Routledge in Teaching Diversity and Inclusion: Examples from a French-Speaking Classroom, eds. E. Nicole Meyer and Eilene Hoft-March.
Raised in northern Michigan's Straits of Mackinac area, Kosnick was a first-generation college student who has since lived abroad in France and Switzerland and spent a year working odd jobs while traveling the U.S. in a motorhome.
Dr. Kosnick values opportunities for faculty-student engagement at Augustana College and loves mentoring research papers at all levels of the undergraduate experience. They are proud of the important interdisciplinary work Augustana students have produced in their courses including:
First-Year Inquiry
"Looking Beyond Binaries to Avoid Polarization in the Sex Work Debate"
"Asexuality: To Include or Not to Include a Slice of Cake in the LGBTQ+ Community"
WGSS 350: Queer Theories
"Not Queer Enough: How Current Medical School Curriculum is Failing the LGBT+ Community"
"The Friendly Monster and the Complacent Queer: Assimilationist Approaches to Modern Adaptations of Frankenstein's Creature"
French Senior Inquiry
"Ton sexe tellement blanc, tellement grand": le colonialisme, l'orientalisme et la sexualité dans Celui qui est digne d'être aimé d'Abdellah Taïa" 
Honors Capstone
Embracing écriture inclusive: Students Respond to Gender Inclusivity in the French Language Classroom"
Specializations: French, Language education, Francophone Literature , Queer Studies, Gender and feminist theory, Postcolonial literature
Education
B.A., French, Michigan State University
B.S., Physiology, Michigan State University
M.A., French, University of Wisconsin-Madison
Ph.D., French and Gender and Women's Studies, University of Wisconsin-Madison