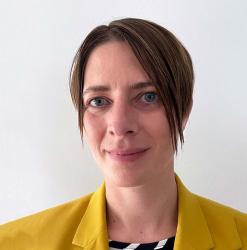 Kiki Kosnick
Assistant Professor of French
A collection of gender-inclusive French language resources is available here.
I use they/them pronouns or proper pronouns in English; in French I use the non-binary pronouns iel/læ/ellui. 
I completed my Ph.D. in French with a minor in Gender and Women's Studies at the University of Wisconsin-Madison in 2016. Before starting at Augustana in the fall of 2017, I was a visiting faculty member at Grinnell College for three years.
I teach courses on francophone literary and cultural studies and all levels of French language. I also regularly offer a queer theory course for the Women, Gender, and Sexuality Studies program. I am active in the Network for Vocation in Undergraduate Education and was a member of their 2019 Teaching Vocational Exploration seminar cohort. 
My recent scholarship centers queer and feminist approaches to (teaching) gender-inclusive French. My article "The Everyday Poetics of Gender-Inclusive French: Strategies for Navigating the Linguistic Landscape" won the 2019 Florence Howe Award for outstanding feminist scholarship. In 2021, my essay "Inclusive Language Pedagogy for (Un)Teaching Gender in French" appeared in Teaching Diversity and Inclusion: Examples from a French-Speaking Classroom.
I grew up in northern Michigan's Straits of Mackinac area and was a first-generation college student. I have since lived abroad in France and Switzerland and spent a year working odd jobs while traveling the U.S. in a motorhome.
I value opportunities to engage with student researchers. Examples of interdisciplinary projects I have mentored include:
First-Year Inquiry
"Looking Beyond Binaries to Avoid Polarization in the Sex Work Debate"
"Asexuality: To Include or Not to Include a Slice of Cake in the LGBTQ+ Community"
WGSS 350: Queer Theories
"Why the Binary?: Cisnormativity in Athletics"
"Not Queer Enough: How Current Medical School Curriculum is Failing the LGBT+ Community"
"The Friendly Monster and the Complacent Queer: Assimilationist Approaches to Modern Adaptations of Frankenstein's Creature"
"The Morphology of Sex: Tracking Change in the Sex Discourse at Augustana College"
French Senior Inquiry
"Ton sexe tellement blanc, tellement grand": le colonialisme, l'orientalisme et la sexualité dans Celui qui est digne d'être aimé d'Abdellah Taïa" 
Honors Capstone
"Embracing écriture inclusive: Students Respond to Gender Inclusivity in the French Language Classroom"
Specializations: French, Language education, Francophone Literature , Queer Studies, Gender and feminist theory, Postcolonial literature
Education
B.A., French, Michigan State University
B.S., Physiology, Michigan State University
M.A., French, University of Wisconsin-Madison
Ph.D., French and Gender and Women's Studies, University of Wisconsin-Madison