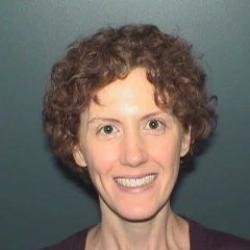 Kimberly Ann Murphy
Associate Professor of Biology
I joined the biology department at Augustana in August of 2011. My interest in science has been life-long. The idea of teaching that interest to others and my desire to teach and mentor students developed from observing my father's interaction with students as a professor and from the excitement of my undergraduate professors. 
In class, in the teaching lab, and in my research lab, my aim is to help students understand how science works, how to think like scientists, and to cultivate excitement for learning.
Although classroom instruction is essential for scientific knowledge, I have witnessed students blossom in the teaching lab and in the research lab.  My position at Augustana offers me the diversity to mentor students in the classroom and laboratory and continue my personal goals in research. 
My personal research has strengthened my abilities to develop scientific skills in students, and my current research projects, all designed to include undergraduate students, have transitioned with me to Augustana.
I received my Ph.D. in Genetics and Cell Biology from Washington State University.  In graduate school, I combined biochemistry, molecular biology, and cell biology to study soybean sucrose transporters.  To broaden my knowledge as a scientist, I changed systems for my postdoctoral work at Syracuse University, which provided me with experience in microbiology and basic bacterial genetics. 
My current research activities include identification and characterization of genes involved in fruiting body formation and motility in Myxococcus xanthus.  M. xanthus is a model organism for studying bacterial biofilms.  In addition, my research includes annotation and analysis of a microbial genome from the U.S. Department of Energy Joint Genome Institute and a third project on how amphibians use agricultural landscapes to move among wetlands.
My personal interests include hiking, travel for pleasure, watching sports, and I cherish time with my family and friends.
Specializations: Bacterial genetics
Education
B.S., Winona State
Ph.D. Washington State