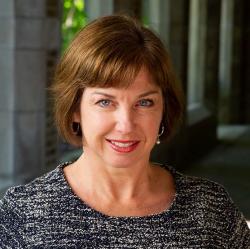 L. Kirsten Day
Professor of Classics
I received my bachelor's degree in Ancient Mediterranean Civilizations and Art and Art History from Rice University in Houston and both my master's and doctoral degrees in Comparative Literature with an emphasis in Classics from the University of Arkansas at Fayetteville. 
I have also spent a good deal of time studying in Greece: I completed a post-baccalaureate year in the College Year in Athens program, participated as a graduate student in a summer study tour in Greece, and attended the American School of Classical Studies in Athens as a Regular Member.
I began teaching at the University of Arkansas while in graduate school and for seven years taught courses there ranging from World Literature and English Composition to Intensive Beginning Latin and intermediate Greek and Latin courses on Homer and Catullus. During the summer, I also worked with the U of A's Youth Opportunities Unlimited and Upward Bound programs, where I taught economically or socially disadvantaged secondary school students from throughout the state of Arkansas. 
In 2005-06, I spent a year as a Latin, English, and Religions teacher at the Cannon School, a private high school in Concord, North Carolina, and from 2006-07, I served as a Visiting Instructor in the Classical and Near Eastern Studies Department at Creighton University in Omaha, Nebraska.
In the fall of 2007, I joined the Classics department at Augustana, where I also contribute to the Women and Gender Studies program. Here at Augie, I've had the opportunity to teach courses in Greek and Latin as well as classical epic, mythology, women in classical antiquity, ancient comedy, epic in film, and more. In 2012, 2014, 2016 and 2018, I led Augustana students on study tours in Greece, where we visited many of the most important sites and monuments of Greek antiquity.
My main research interests focus on Classical representations in popular culture and on women in the ancient world. My dissertation examines women's self-image in the epics of Homer and Virgil, but most of my research since has focused on classical representations in film (though often, with an eye to gender issues). 
I served as Area Chair of the "Classical Representations in Popular Culture" panels at the Southwest Popular and American Culture Association Regional conferences from 2002-2013. I acted as guest editor of a special issue of the Classics journal Arethusa on the subject of Classics in cinema (January 2008), and co-edited the similarly-focused pilot issue of the online journal Dialogue: The Interdisciplinary Journal of Popular Culture and Pedagogy (available at: http://journaldialogue.org/issue-1-home/).
I have also published several articles on the subject (see CV). In June of 2016, my first monograph, Cowboy Classics: The Roots of the American Western in Ancient Epic,  which looks at Western film as a modern counterpart to Greek and Roman epic, was published at Edinburgh University Press.
Specializations: Women in classical antiquity, Classics in popular culture
Education
B.A., Rice University
M.A., Ph.D., University of Arkansas at Fayetteville