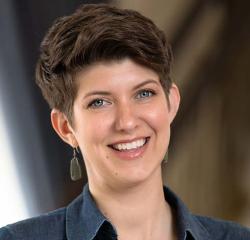 Lena R. Hann
Associate Professor of Public Health
Lena R. Hann, PhD, MPH, CHES, is an assistant professor of public health and the author of "Patient-Centered Pregnancy Tissue Viewing: Strategies and Best Practices for Independent Abortion Providers" (2020), a medical best practices manual used in over 100 health clinics across the U.S.
She spent the formative years of her career working in reproductive health and abortion-providing clinics as a pregnancy options counselor, patient advocate, laboratory technician, and health educator. 
Before joining Augustana College, Dr. Hann coordinated the master of public health program at the University of Illinois at Urbana-Champaign from 2009-2016, and taught a variety of courses, including human sexuality, global health and diversity study abroad in Australia, professionalism in public health, and the MPH practicum and capstone. 
She also served as education programs coordinator for Planned Parenthood of Illinois in Champaign from 2008-2011, where she directed a teen pregnancy prevention peer education program called the Teen Awareness Group (TAG). TAG employed and trained local teens to teach evidence-based sexual health education to area middle and high school students. 
As an MPH student at the University of Iowa College of Public Health from 2006-2008, Dr. Hann helped open the University's first LGBT Resource Center and served as its first manager.
Since joining Augustana in 2016, Dr. Hann teaches practice-based core and elective courses for the Public Health and Women, Gender, and Sexuality Studies programs. Students in these courses can expect immersive, rigorous, hands-on experiences that blend the science and practice of public health. 
Many students have gone on to pursue campus and community-level projects they began in one of Dr. Hann's courses, such as the Augustana Student Flu Shot Clinic, Campus Smoke Free Initiative, the annual Sexual Health Education Fair, community blood drives, and the new Augustana Convenient Care Clinic. These projects highlight the impact a liberal arts education can have on students' personal and professional interests. Graduates from the PUBH major are now in careers all over the country and the globe, continuing their passions for lifelong learning and helping others.
Dr. Hann has two ongoing research projects. The first examines independent providers' unique experiences in abortion care and she has presented this work in Australia, Canada, Northern Ireland, South Africa, and across the United States. Her other project explores Hidradenitis Suppurativa (HS), an under-studied auto-inflammatory disorder, and how people who live with HS navigate their personal and medical experiences. Dr. Hann employs student research assistants who have co-presented at conferences in Atlanta, Seattle, Chicago, and South Africa and co-authored scholarly articles. 
Dr. Hann's other public health and scholarly interests include stigma in health, community harm reduction practices, gender identity and trans health in patient-centered care, and vocational reflection in public health education.
Take a class with Dr. Hann:
PUBH 100: Global Issues in Public Health
PUBH 273: Reproductive Justice: Perspectives on Policies, Practice, and Public Health 
PUBH 306: Sexuality and Health Education
PUBH 350: Health Behavior and Health Promotion
PUBH 365: Professionalism in Public Health Practice
PUBH 399: Directed Study
PUBH 400: Independent Study
PUBH 450: Senior Inquiry Practice Experience (Internship)
PUBH 460: Senior Inquiry Research and Reflection (Capstone)
Education
B.A., Sociology, Women's Studies, Cornell College
M.P.H., Community and Behavioral Health, University of Iowa
Ph.D., Community Health and Gender and Women's Studies, University of Illinois at Urbana-Champaign
CHES, Certified Health Education Specialist, National Commission for Health Education Credentialing