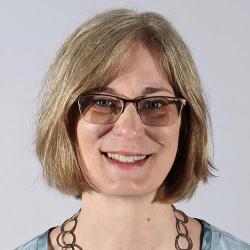 Lisa M. Seidlitz
Associate Professor of German, Chair of World Languages
Lisa Seidlitz received her Ph.D. in Germanic studies from the University of Texas at Austin in 2003, where she specialized in linguistics, sociolinguistics, language acquisition, and language teaching. Her dissertation dealt with functions of codeswitching, or language alternation, in foreign language classes. She earned her master's andbachelor's degrees from the University of Illinois at Urbana-Champaign.
Dr. Seidlitz teaches a variety of classes, including all levels of German language and culture, German film, and linguistics. Her recent academic work has focused on development and assessment of curricular innovation in German studies. She is active in the American Association of Teachers of German and recently served as the president of the Northern Illinois chapter of that group.
When not teaching, she enjoys baking, cooking, watching independent and foreign films, traveling, and spending time with her husband and daughter.
Specializations: German language, German film, German culture, Teaching of German, Foreign language pedagogy, Literature, linguistics
Education
B.A., M.A., Illinois
Ph.D., Texas (Austin)