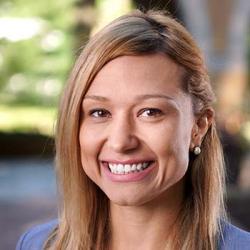 Liz Nino
Director of International Recruitment and International Student Life
Hometown: Hampton, IL
Current Town: Anywhere from Bangkok, Stockholm, to the Quad Cities.  I live on the road.
College attended: St. Ambrose University
Major:  International Business, Spanish
What did you do before Augustana: After college I knew I wanted to continue my passion for International travel and went abroad to teach English in Andalucia, Spain where I got to live on the Strait of Gibraltar. I could see Morocco from my balcony! I fell in love with the Education field and went on to teach high school in Monterrey, Mexico, a city surrounded by the Sierra Madre Mountains. I decided to switch gears and embarked into the business world in Boston, Massachusetts where I worked for one of the leading companies in International Education. My family roots and my love for the Midwest brought me back to the Quad Cities where I now study my Masters in Bilingual Education. 
What do you most love to tell prospective students about Augustana? Augustana offers a wide range of International programs. You might decide to take a summer Spanish class in Ecuador, perhaps a winter internship at a leading company in Germany, to volunteering in Ghana.  Even more exciting, Augustana will help you do this by offering you $2,000 to do it through Augie Choice.
What's great about the Quad Cities?  Most people don't realize how diverse our city is. We have numerous ethnic restaurants, if you like spicy food you must try La Rancherita, the red salsa is to die for.
Why did you decide to work in this field and/or at Augustana?   Augustana has given me the opportunity to follow my passion to foster multicultural understanding, as I get to internationalize our campus community by enrolling students from all over the globe.  
What advice do you have for students who are searching for the right college for them?  Find a college that will give you the opportunity to follow your dreams. It's important to find a college that will help you reach your goals by giving you the resources and guidance you deserve. 

What do you like to do around the community?  I am a very active person. I spend a lot of time riding my bike along the Mississippi River, occasionally I go to Lake George where I go canoeing, or take a yoga class in Vander Veer Park on the weekends.  Evenings I like exploring the city by going to an event, show, or watch a live band. I definitely recommend checking out the Iowa Wireless center for upcoming concerts.  

Do you volunteer service in the community?  My love for Education keeps me around children. The downtown Moline Floreciente neighborhood has a wonderful Boys and Girls program where I get the chance to visit students. We do everything from playing checkers, listening to music and dance. My favorite part is when I get to teach them Zumba!
Specializations: Admissions
Education
B.A., St. Ambrose University