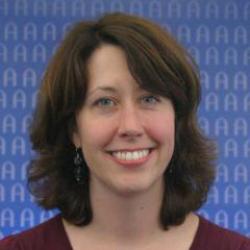 Meg E. Gillette
Associate Professor of English
Meg Gillette received her B.A. from the University of Iowa and her M.A. and Ph.D. from the University of Illinois in Urbana-Champaign. 
Her research and teaching interests include modern American literature, composition theory, women's literature, literary theory, African-American literature, sentimentalism, and cultural studies. 
Dr. Gillette is also the coordinator of the first-year writing class (LSFY 101), a member of the Women's and Gender Studies working board, and the faculty advisor to Bibliophiles Anonymous, Augustana's English club. 
Her articles on Ernest Hemingway, Viña Delmar, Dorothy Parker, and Kay Boyle have recently appeared in Modern Fiction Studies and Studies in American Fiction.
Specializations: American literature, Composition theory, Women's studies, Gender studies
Education
B.A., Iowa
M.A., Ph.D., Illinois