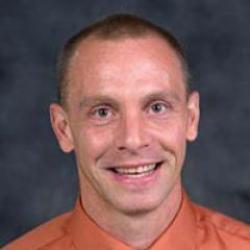 Michael D. Reisner
Assistant Professor of Environmental Studies, Director of the Upper Mississippi Studies Center
Dr. Michael Reisner is the director of the college's Upper Mississippi Studies Center  (UMSC), which will assume a leading role in sustainability science.
Dr. Reisner earned his Ph.D. in ecosystem and restoration ecology from Oregon State University and J.D. from the University of Oregon School of Law.
In Montana, he helped to negotiate an agreement between miners and conservation groups that helped to create about 1,000 family-wage jobs in a rural area, without degrading the water or air quality.
At the University of Wisconsin, his work focused on creating more sustainable energy systems for the upper Midwest.
Along the way, he helped to build better relationships between the academic community and the broader community outside—businesses, neighborhoods and conservation groups.
"We have to stop looking for panaceas or silver bullets," Dr. Reisner said. "Our communities face complex challenges that involve interactions between social, economic, institutional and environmental dimensions. We need to work collaboratively to develop and implement complex solutions."
A watershed moment for Dr. Reisner came as a boy. He visited Cairo, Ill., and remembers a breathtaking view — the great confluence of the Ohio and Mississippi rivers. But his lasting impression was spoiled by pollution, industrial waste and mind-numbing poverty.
"Nearly three decades after I first visited the town as a third-grader, things are the same, at the very least, and arguably have grown worse," he said.
Dr. Reisner will engage Augustana students in the center's projects, challenging them to think in new ways that use interdisciplinary approaches, acknowledge competing interests, and find ways to compromise behind a common cause. 
Specializations: Upper Mississippi Center
Education
B.S., Montana State
J.D., Ph.D., Oregon State