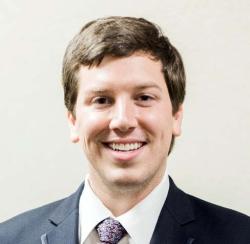 Paul Baumgardner
Assistant Professor of Political Science
Although originally from Kansas, Dr. Paul Baumgardner traveled around quite a bit before arriving at Augustana. In the years before his move to the Quad Cities, Baumgardner benefitted from fellowships, scholarships, and teaching positions at Princeton University, the American Bar Foundation, Lewis University, the Rutgers Law School Institute for Law and Philosophy, the University of Buffalo Law School Baldy Center for Law & Social Policy, and Belmont University.
 
Baumgardner completed a joint Ph.D. in the Department of Politics and the Humanities Council at Princeton University in 2020. He is particularly interested in the historical interplay between law, ideology, and state development. Baumgardner's recent research has explored the relationship between modern conservatism and the American political system, with an eye towards the institutional processes and historical contingencies that have shaped conservative campaigns to influence American laws and remake the legal profession since the 1970s. Through broad investigations of the presidency, state and federal judiciaries, law schools, and the U.S. Department of Justice, Baumgardner's research has shown how lawyers, law professors, and social movements were mobilized within particular conservative legal campaigns and explained why some campaigns proved influential while others faded over time.
 
He is the author of "Critical Legal Studies and the Campaign for American Law Schools: A Revolution to Break the Liberal Consensus" (Palgrave Macmillan, 2021) and a coauthor of "Keywords; For Further Consideration and Particularly Relevant to Academic Life" (Princeton University Press, 2018). His scholarship also has appeared in journals such as Law & Social Inquiry, Annual Review of Law and Social Science, Presidential Studies Quarterly, and Law and History Review. 
 
Dr. Baumgardner believes in the transformative power of political science courses, not only because these courses help students make sense of past and present political phenomena, but also because they shine a light on areas where students can become politically engaged, apply their expertise, and make a difference. At Augustana, he teaches courses across the public law, American politics, and political theory subfields within the Department of Political Science.
 
Education
B.A., Baylor University
M.A., Department of Politics, Princeton University
Joint Ph.D., Department of Politics and the Humanities Council, Princeton University