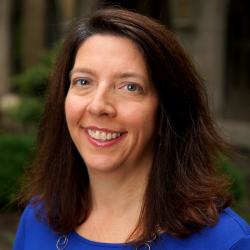 Rachel Z. Gustafson
Associate Director of Admissions
Schedule a meeting with Rachel G.
Hometown: Aurora, IL
Current Town: Rock Island, IL
College Attended: Augustana College; University of Iowa 
Degree: Bachelor of Arts, Augustana College ; M.B.A., University of Iowa
Major: Business Administration - International Business, French
Office Responsibilities: In addition to working with students in the Quad Cities, and doing presentations on many subjects in the local high schools,  I play a role on our Admissions Multicultural team, as well as work with our alumni who help with recruitment.  
What do you enjoy most about your job? I love working with students at one of the most exciting times of their lives.  I always remind students to celebrate this time.  While choosing the right college takes a lot of work (think of it as another part time job on top of all of your other responsibilities), once you get there, celebrate this milestone with your family and friends!   To find a school that is not only amazing, but will play a big role in helping you become even more amazing, that is a monumental accomplishment. I'm just fortunate I get to be part of that decision every day.   
What have you learned from Augustana students? I have learned that Augustana students are amazing individuals.  They are talented, passionate and excited about learning.  They are doing amazing things in the world, and embracing the opportunities presented to them. I have learned that if you are open to new experiences, you might end up doing a foreign term in Vietnam or Ghana, or doing an internship at the Florida School for the Deaf and Blind, or digging for dinosaurs with Dr. Hammer in Antarctica.   
What do you most love to tell prospective students about Augustana?  I love to share the many opportunities that students will have to connect outside the classroom.  I think sometimes students are surprised that half of our students study abroad, and over almost as many do internships and research.    Most students don't come to visit campus thinking about doing a term in Vietnam or Ghana, but often times it is in these unexpected experiences that students find their calling and realize their passions. 
What is your favorite time/tradition of the Augustana school year? Definitely the holidays.   At Christmas there are Swedish Smorgasbords, Kwanzaa festivals, Lessons and Carols, Handel's Messiah, and Santa even pays a visit to the children of the Augustana community.  
What's great about the Quad Cities?  It's got all of the advantages of a large metropolitan area, including internships at Fortune 500 companies, social venues, shopping and more, and still has the feel of a more suburban area.  With a population of 400,000, and Augustana being the only liberal arts college in the area, it gives our students immense opportunity.  
What do you like to do around the community?  The Quad Cities has so much to offer - our family likes to hike and bike in the area along the numerous bike trails, or go to many of the events and festivals, from water ski shows to ballet under the stars.   There is always something going on.   We also like to attend sporting events and shows at the local high schools.  
Do you do volunteer service in the community? Where? I hold leadership positions within the Juvenile Diabetes Research Foundation, RI school district and First Lutheran Church. My husband is an art educator and we are very involved in the vibrant arts community here in the Quad Cities.  
What advice do you have for students who are searching for the right college for them? Start early and give yourself enough time to do the research and make sure that you are getting all of the information you need.    Use your resources - everyone from teachers to parents to admissions professionals want to help and see you find your ideal college match.  Make sure you are asking questions and seeking information from those who have something to offer.   Be open minded though and keep your options open - you may find that what you thought you were looking for changes as you explore, visit and talk to people.   
Territory
Illinois Counties: Henrey, Mercer, Rock Island, Scott.
Iowa Counties: Scott.
Illinois/ Iowa Quad Cities
Kentucky 
Ohio 
Tennesse
Specializations: College search, College essay writing, Quad Cities community, College application , Alumni admissions, Admissions
Education
B.A., Augustana College
M.B.A., University of Iowa