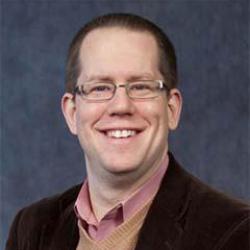 Robert P. Elfline
Professor, Piano
Robert Elfline grew up near the Quad Cities in Morrison, Ill., and graduated from Morrison High School in 1993. He began his studying the piano at age 6 and by age 12 was accepted into the studio of renowned pianist Donald Walker, with whom he studied for six years.

After high school, he earned a B.A. in piano performance from Illinois Wesleyan University in Bloomington, Ill., where he graduated magna cum laude in 1997. After college, Dr.  Elfline enrolled in the graduate program at Rice University in Houston, Texas, taking performance honors and earning an M.A. in music.

He graduated with a Doctor of Musical Arts from the University of Cincinnati, College-Conservatory of Music  in  2007. 

He maintains an active private studio having taught private lessons, group piano classes and music theory classes to pre-college students in Davenport, Iowa, and Mason, Ohio. As a performer, he takes a particular interest both in the sonatas of Haydn, Beethoven and Schubert, and the recent music of American composers. Additionally, he enjoys presenting works of lesser-known composers, particularly those active around the turn of the nineteenth century. This interest has led to the study of works for piano and narrator, a long-neglected segment of the piano repertoire that has formed the basis for his dissertation.
Specializations: Piano, Piano pedagogy, Music theory, Music history, American music, Popular music, Chamber music, Collaborative piano
Education
B.M., Illinois Wesleyan
M.M., Rice
D.M.A., Cincinnati