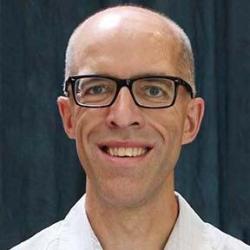 Scott R. Gehler
Associate Professor of Biology
I joined the biology department at Augustana College in the fall of 2011.  My favorite part about teaching at Augie is working with students and guiding them toward their passions.  My approach to teaching biology is to help students make connections between biological principles and practical experience.  In doing so, my goal is to get the students excited about science while building upon their knowledge from other courses. 
I received my Ph.D. in Neuroscience from the University of Minnesota where I studied how nerve cells grow and form connections with other nerve cells.  I went on to do post-doctoral research at the University of Wisconsin-Madison where I studied how breast cancer cells move and metastasize to other parts of the body. 
Following the completion of my post-doctoral research, I worked for a small biotech company in Madison where I directed the Research and Development group for cell-based assays.  I have had numerous opportunities to teach students in various classroom settings and mentor them in the laboratory.  Whether it is in the class or the laboratory, my approach is to teach students to think like scientists through application of the scientific method.
My research program at Augustana involves the study of cell motility, or movement, which is essential for cancer cells to metastasize to other regions of the body.  Using immortalized cancer cells cultured in a petri dish, we use various types of microscopy to observe cells and help answer experimental questions.  We are interested in learning about the signaling mechanisms that regulate the cell cytoskeleton, which is essential for cell motility.
In addition to my scientific interests, I enjoy spending time with my family, fishing, biking, camping, and spending time outdoors.  My wife, Trisha, and I have two energetic boys who keep us on our toes.
Specializations: Human Physiology, Cell Biology, Cancer Biology, Neuroscience
Education
B.A., Cornell College
Ph.D., University of Minnesota