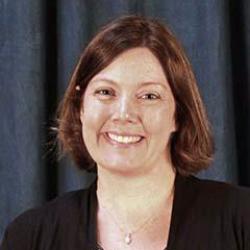 Shara D. Stough
Associate Professor of Psychology
After discovering neuroscience through her undergraduate majors in Psychology and Philosophy at Coe College, Dr. Shara Stough earned her Ph.D. in Neurobiology and Behavior from the University of California-Irvine in 2010. She is thrilled to be back at a liberal arts institution where she is an associate professor in the department of Psychology and Neuroscience. 
Dr. Stough's doctoral research explored neural mechanisms underlying a simple form of fear memory in giant sea slugs. Her current research focuses on associative fear memory in young chickens as a potential animal model of post-traumatic stress disorder. 
She enjoys involving students in all aspects of the research process, which contributes to students' progress on a wide range of Augustana's college-wide learning outcomes. Student interests have led to recent investigations of the social transmission of fear between chickens and the impact of olfactory cues on fear memory.
Stough teaches courses in Research Methods, Learning, Addiction, and Physiological Psychology, and supervises students' Senior Inquiry research projects.  
She also enjoys exposing students to neuroscience outside the traditional classroom by taking students to neuroscience conferences where they have the opportunity to present their research, and by co-organizing NeurdFest, an annual brain fair for second graders from Longfellow Elementary. 
    
The individualized support and guidance from faculty in her undergraduate education was essential in helping Stough develop and pursue her passion for science and education. She now seeks to provide that same quality mentorship to her own students. 
Education
B.A. Coe College
Ph.D. University of California, Irvine