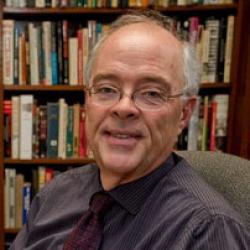 W. David Snowball
Professor of Communication Studies/ Talbott Harbour Chair
In 1984, Dr. David Snowball joined the faculty at Augustana and since has served the college in numerous roles. Currently a professor and chair of Communication Studies, he teaches Advertising and Social Influence, Propaganda in the 20th Century and Beyond, Communication and Emerging Technologies, Research Methods and Senior Inquiry. He maintains AugieComm, the department's Linked-In group which provides an ongoing connection between our students and alumni. 
For a quarter of a century, Dr. Snowball competed in academic debate and coached college debate teams, including Augustana's. When he retired from that research-intensive endeavor, his interest turned to researching fund investing and fund communication strategies. 
 He was the closing moderator of Brill's Mutual Funds Interactive (a Forbes "Best of the Web" site). From 2006-2011, he was the senior fund analyst at FundAlarm and author of more than 120 fund profiles. His online newsletter, the Mutual Fund Observer, is read by about 25,000 people from 35 countries each month. His work has been cited in USA Today, The New York Times, The Wall Street Journal, Barron's, Business Week and, on the web, at Motley Fool, MSN Money, WSJ/MarketWatch and elsewhere.
Dr. Snowball lives across the Mississippi River from Augustana's campus in Davenport, Iowa. He's the proud father of one son, Will, who keeps his dad busy.
Specializations: Mutual funds
Education
B.A., Pittsburgh
M.A., Ph.D., Massachusetts