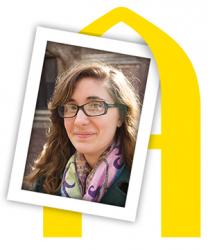 More Than I Imagined
Seniors reflect on accomplishments and look ahead
Jordan Kirkbride
Graduation year: 2014
Major: Art history
Minor: French
Activities: Art History Club, Centre for Whistler Criticism research assistant, Augustana College Teaching Museum of Art
Post-grad plans: Study abroad at the University of Glasgow in Scotland
Why did you choose to attend Augustana?
As a Rock Island native, I had always heard great things about Augustana. When I reached my senior year of high school, I didn't know what I wanted to do after graduation. Then I received a Rising Leaders application from Augustana and, after a visit in the middle of winter, I decided that Augustana was where I wanted to be.
Are you where you thought you'd be four years ago? 
When I entered Augustana, I wanted to teach French to high school students. Following a year in the Austin E. Knowlton Honors Program, I had no idea what I wanted to do anymore; I was introduced to so many new ideas and disciplines. I spent about two years flipping between majors until I finally took an art history class and fell in love.
Who helped you get to where you are now?
My family has always been really supportive, and on campus, I can honestly say that I haven't met a professor who didn't help me in some way. Maybe I've just been lucky, but every professor I've had at Augustana has helped me explore new ideas and challenged my beliefs. I'm especially grateful for the professors and staff in the art history department. They have helped me through every up and down in the past two years, and they are always willing to listen to tearful complaints and crazy ideas.
A peak experience?
Co-curating an exhibition in the museum is probably one of the best experiences I've had at Augustana. After working for the Centre for Whistler Criticism for about two years, helping to curate an exhibition that centers on Whistler's art and the research I've helped conduct was really rewarding. It also helped me to see what a career in the museum field would be like, and all of the work it entails.
What did you learn about yourself in these past four years that surprised you? 
As a high school student, I never felt challenged by the coursework, and had no idea how dedicated I could be to school. Augustana helped me to realize that it's actually cool to care about "nerdy" stuff like history and art because you can make a career out of whatever you're passionate about. I'm so proud of the work I've done at Augustana, and all of the experiences that I've had that added to my dedication to working as hard as I could.
How did you use your Augie Choice?
I'm using Augie Choice to travel to Greece with the classics and art history departments during a two-week immersion course touring the ruins and important sites of ancient Greece. After 10 weeks on campus, talking about art, culture, history and language, we finally get to travel to the sites and meet the people that we've been learning about. I'm really looking forward to it.
What will you miss the most?
I'll miss being able to just have real conversations on a daily basis, with every type of person imaginable. The challenge that comes from talking to someone completely new to you, with ideas that are completely opposite from yours, is something you can't do outside of college life.
Advice for the Class of 2018?
Don't be afraid of your professors. They are here to guide you, teach you, challenge you and also learn from you. The best professors are the ones who allow their students to share in the exchange of knowledge in the classroom. And we have a lot of those great professors at Augustana.
"Working with passionate students who wholeheartedly engage is one of the greatest joys for a liberal arts professor! Jordan is such an engaged future art historian. Her dedicated research in the Centre for Whistler Criticism exemplifies original interdisciplinary investigation, furthered through co-curating our Whistler and His Contexts exhibition. Jordan also utilized her talents and training as service for her community through creating an art historical booklet for the 1833 Colonel Davenport House. I look forward to serving as her presentation mentor for the first undergraduate session of the Midwest Art History Society!"