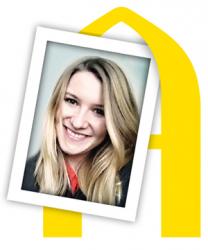 More Than I Imagined
Seniors reflect on accomplishments and look ahead
Liv Reinacher
Graduation year: 2014
Major: Studio art
Minors: Chemistry, art history
Activities: Student Government Association, Global Ambassador, UNYK Multicultural Dance Troupe, Alpha Phi Omega service fraternity, Educational Policies Board, Art History Club
Post-grad plans: My dream is to go into art restoration, so I hope to get an internship at a museum for the next year and then go on to graduate school.
Why did you choose to attend Augustana?
My older sister went to Augustana, and I got to visit her a couple times while I was still in high school. I really liked the community feeling on campus and the fact that the trimester system gives students the opportunity to pursue and explore a larger variety of majors and minors.
Are you where you thought you'd be four years ago?
I don't really remember exactly what I thought I would be doing as a senior, but I never imagined I would be going into art restoration. Art has always been something that I was passionate about, but it was never something that I thought I would be able to incorporate into my career. There are so many experiences that I've had in the past four years at Augustana in all aspects of my life that have pushed me to be a better version of myself and that have made me a stronger person than I thought I could be.
Who helped you get to where you are now?
There are so many people who have helped me throughout the last four years. My parents and my sister, who have been the best support system anyone could ask for, my friends without whom I would definitely not be half the person I am today, and of course the professors. I have encountered so many professors who are willing to go above and beyond to help students and who encourage students to reach out to them.
A peak experience?
I am lucky enough to have had multiple peak experiences. The first one is working with the international students during orientation for the past three years. I made friends from all around the world and learned about their different cultures and point of views. The second peak experience is being able to display my artwork at the Figge Museum freshman year and then again senior year. It was so cool to see my own work on display in a real museum! My third one is working on my senior art exhibition. I am still in the midst of it right now, but it has been one of the most challenging and rewarding experiences of my life.
What did you learn about yourself in these past four years that surprised you?
The most important thing I learned is that I can trust myself when it comes to making decisions. I used to be very hesitant about making any kind of big decision without relying on other people's opinions, but college has helped me become more independent.
How did you use your Augie Choice?
I will be using it this summer to travel to Greece with the classics and the art history departments.
What will you miss the most?
I will definitely miss living so close to my friends and being able to hang out with them all day! I will also miss the beautiful campus that has been my home for the past four years, spring walks to class, seeing friendly faces wherever you go, and the feeling of community that is present everywhere on campus.
Advice for the Class of 2018?
Don't decide on a major right away! There are so many possibilities out there! Try new things; you might surprise yourself with a passion for something you didn't even know existed. Reach out to people from other majors, teams and backgrounds. I have met so many interesting people who are now some of my best friends by simply starting a conversation.
"Liv had intended to explore the issue of personal image through painting, but ended up tackling the figure-ground relationship in paint directly in a manner similar to the styles of artists Diebenkorn and David Park. She is a gutsy painter who is not easily content with what she has made. To be true to her own style, she does not hesitate to paint over images of nicety that may please others. It pleased me to learn that she has plans to go into art conservation in Germany after graduation."