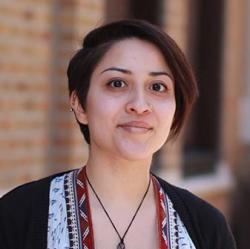 More Than I Imagined
Seniors reflect on accomplishments and look ahead
​Analysia Gomez
Graduation year: 2016
Majors: Biology and women's and gender studies
Post-grad plans: I intend to find work in conservation. It's an area that I feel uses both of my majors. Currently, I'm applying for work as a zookeeper at various zoos.
Why Augustana?
I liked the small campus. It felt more community-driven, and I liked the small class settings. I also liked that it was a liberal arts college. I have come to value the notion that "everything is connected" and how we can see so many different disciplines intersecting with one another. 


Are you where you thought you'd be four years ago?
I don't think I'm where I thought I'd be four years ago, but that's a good thing. I had no idea that I'd graduate with two majors, and I had no idea what field of science I would find a career in. I'm very happy with where I am now.
Who helped you get to where you are now?
There are many people who have helped me get to where I am now. First and foremost is my father. Without him, I wouldn't even be able to attend Augustana. He has worked hard and tirelessly to ensure that I receive my college education, and I'll always be thankful for that. I also think that my wonderful advisors, Dr. Geedey and Dr. Al-Wazedi, have helped me to find my interests and career path. They encouraged me to explore all my interests while I was here, and it is thanks to them that I was able to declare two majors.
A peak experience?
A peak experience for me was participating in #BlackLivesMatter protests. Not only is the #BlackLivesMatter movement important in and of itself, but it made me realize that while I may love and enjoy Augustana College, it's our job as active students and citizens to call out problems within the institution so that we can progress and be a more inclusive community.
What has surprised you?
I learned how to question and really analyze my beliefs. While the classes here at Augie aren't necessarily meant to sway your opinions one way over another, they do provide a safe, relatively judgment-free environment to reflect and re-evaluate personal values. I've found that over the past four years my beliefs have changed quite a bit and that they are stronger than ever.
What will you miss the most?
I think I'll miss the classroom setting. Of course, no one really ever stops learning, but I'll miss having a place to learn and discuss different topics. I also think I'll miss the friends and acquaintances that I've made over the years, and the way we were able to get together to support and unite each other.


Advice for the Class of 2020?
Enjoy and immerse yourself in all the college has to offer because before you know it, you'll be graduating.
"Ana exemplifies the sort of intellectual boundary-crossing that is essential in answering the world's most pressing questions. As a double major in biology and women's and gender studies, she understands that our ways of knowing the world are always mediated by social values and individual experiences. Her Senior Inquiry project, which explores how teachers might integrate social awareness of race, class, gender and sexuality into science curricula, promises to turn ideas into action."