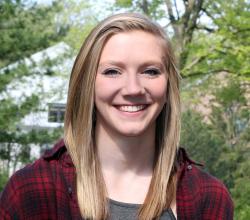 More Than I Imagined
Seniors reflect on accomplishments and look ahead
​Andrea McNally
Graduation year: 2016
Major: Applied mathematics
Activities: Varsity basketball, Student Athletic Advisory Committee, Sigma Pi Delta sorority, Mortar Board, Phi Beta Kappa
Post-grad plans: Next fall I will attend Elmhurst College to obtain a master of science in nursing.
Why Augustana?
I visited a lot of colleges but was pretty indecisive about what specifically I wanted in a school. I knew I was looking for a small, liberal arts school that would suit me academically as well as give me the opportunity to play basketball. Then, after doing an overnight with a few basketball players, Augie became the first place where I could genuinely see myself. If I could go back four years, I would choose Augie again in a heartbeat.
Are you where you thought you'd be four years ago?
Definitely not! I came into Augie completely undecided about my major and didn't declare applied math until sophomore year. I had no idea what path I wanted to take until in my junior year when I discovered my desire to pursue nursing. Four years ago, I had no intention of being a nurse but I am now very excited to start this next chapter. Just as well, my time at Augie has developed me personally. I've had experiences that changed my outlook on life and helped establish myself as an individual as well.
Who helped you?
Without a doubt, my parents are the reason I am where I am today. I could not have made it through these four years without their support. Both of them have shown me firsthand how to be strong in the face of adversity and have unknowingly inspired me to be strongminded. Balancing the role as a student-athlete was not always easy at times, but my parents were always there to listen and offer advice when I needed it most. Likewise, they have been patient with my academic uncertainty and then fully encouraged my decision to pursue nursing. Whether it was aiding me academically or cheering from the sidelines, my parents have always been my number one supporters, and I attribute my successes to them.
A peak experience?
Being a member and captain for the basketball team has been one of the best experiences during my time here. My love for the game only intensified at Augie, and I realized how rewarding it can be to fully dedicate yourself to something you're passionate about. Our program went through a huge transformation during my four years, and I have gained so much by contributing to this rebuilding. But most of all, the relationships I have with my teammates have made the biggest impact. Whether it was dance parties after a win, competing in practice, or enduring 6 a.m. workouts, the time I've spent with my teammates has been my greatest memory here. Basketball has given me lifelong friends and taught me lessons that have molded me into the person I am today.
What did you learn about yourself that has surprised you?
I have learned that I can handle a lot more than I thought I was capable of. I found that I am able to not let my misfortunes define me, but rather form me into a stronger individual and direct me toward what is truly important. This realization has brought me closer to my family and friends, as well as matured my view on life.
How did you use Augie Choice?
During the summer before my sophomore year, my teammates and I went to Rio de Janeiro, Brazil, for 10 days. We played two games against a local college-level team and spent the rest of the time exploring the city and Brazilian culture. We walked down the Copacabana sidewalks, trying authentic food and conversing with locals. We also saw landmarks such as the Metropolitan Cathedral, Sugarloaf Mountain, and Christ the Redeemer statue. The highlight of the trip though was when we visited an after-school program for low-income children. We were able to play basketball with all the kids and hang out with them afterwards. It was an amazing experience to have and share with my teammates.
What will you miss the most?
What I will miss most are the experiences and relationships I have gained over the years. The people I have met at Augie have become my closest friends, and I can't imagine not being able to see them every day. Things like late-night study sessions, team dinners and coffee runs are just some of the quality times I will miss most once I graduate. My relationships here are the reason I've had such a memorable four years.
Advice for the Class of 2020?
Use your next four years to discover what is important to you and make that your priority. Spending time doing what truly makes you happy is what will create a great college experience.
"Andrea is that one-of-a-kind individual with an unbelievable work ethic and drive to succeed. Everything that she gets involved with, she has an impact on. She is the true essence of what it means to be a student-athlete, and we have been lucky to have her lead this Viking family to the right path. She was a student first, and she excelled in the classroom because of it. At the same time, she was able to spend hours in the gym, on her own, showing a dedication and a commitment to be part of something that is bigger than herself. Andrea is a true team player and a wonderful young leader who will go on to make Augustana proud."