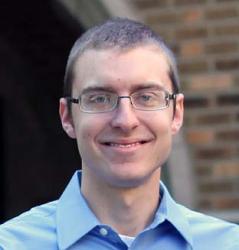 More Than I Imagined
Seniors reflect on accomplishments and look ahead
​Andrew Beveroth
Graduation year: 2016
Majors: Accounting and business administration (finance)
Minor: History
Activities: Campus Ministries, Honor Council, Student Alumni Council, Student United Way
Internships: Girl Scouts of Eastern Iowa and Western Illinois, finance intern; John Deere, internal audit intern .
Post-grad plans: I will be working as a value stream cost analyst at Wahl Clipper Corporation in Sterling, Ill.
Why Augustana?
I chose to attend Augustana because I had two sisters, one who had graduated from Augustana already and one who was a junior when I was a first-year. Both of them had amazing experiences at Augustana and were able to achieve their goals; therefore I knew I would have the same success going to Augustana.
Are you where you thought you'd be four years ago?
I am not where I thought I would be. I have been able to grow in all aspects of my life since coming to Augustana. Every step along the way, whether an accomplishment or a setback, someone from the Augustana community has been there to support and encourage me.
Who helped you get to where you are now?
There are a great many people who have helped me achieve my goals. I would not be where I am today without the support of my parents, friends and family. Also, faculty and staff at Augustana, from Pastor Richard Priggie, college chaplain, to Lisa Slater, CORE office coordinator, and everyone in between (I do not have enough space to list everyone). I am very thankful for all of the support they have given me so that I may succeed.
A peak experience?
There are many wonderful experiences that students can take part in to enhance their time at Augustana. The experiences that stand out the most to me are those related to Campus Ministries. There are multiple Christmas events that take place on campus that really highlight the spirit of the season. Then, during spring break there is a weeklong mission trip to the Appalachia region of Kentucky that allows students the opportunity to give back and also to reflect on how blessed we are. I was able to take part in many of these events and go on the spring break trip twice.
What has surprised you?
What surprised me the most was how little about the world I knew. Through classes, being able to study abroad, and mission trips to Kentucky, I was exposed to such diverse cultures and points of views, which allowed me to personally grow.
How did you use your Augie Choice?
I used my Augie Choice to study abroad in Germany for four weeks in the summer following my sophomore year. It was a wonderful experience, spending two weeks in Berlin and two weeks in Leipzig.
What will you miss the most?
I will miss being able to walk into different faculty and staff offices and have conversations about classes and, more importantly, life.
Advice for the Class of 2020?
Make as many personal connections as you can with faculty and staff. They truly care about students and are willing to go the distance for them.
"In the movie 'Harvey,' Jimmy Stewart's character makes a statement at one point that he has to choose between being 'Oh so nice' and 'Oh so smart.' Andrew has been able to accomplish both of these beautifully. This is not just my opinion. I stole, with permission, the last two sentences from another of his professors. Andrew is a genuinely 'nice' and a very gifted learner. It has been an absolute pleasure to know him as a student and as an advisee. It has been an even greater pleasure to have had the opportunity to spend time discussing life and what is to come."