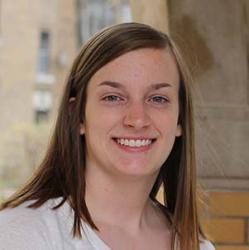 More Than I Imagined
Seniors reflect on accomplishments and look ahead
​Ashley Newell
Graduation year: 2016
Majors: Psychology and sociology (social welfare)
Minor: Art history
Activities: Art History Club
Internships: Bureau County Sheriff's Office and Scott County Sheriff's Office.
Post-grad plans: I plan to take a year off to work before going to graduate school to get my master's in social work.
Why Augustana?
I knew that with the small class sizes, my professors and I would be able to interact closely.
Are you where you thought you'd be four years ago?
Not at all. I came in with a plan to major in biology/pre-med and that changed rather quickly. Once I began taking classes in both psychology and sociology, I knew that was what I wanted to study. In addition, I have had many opportunities here that I never thought would ever come about. I went out on a whim and applied to the Public Safety/Police Department on campus and was hired. I have worked there for two years, and in those two years, I have grown tremendously as an individual. I was also able to become an advocate for the rights and protection of survivors of domestic violence and sexual assault through SafePath Survivor Resources/Family Resources, which has been a life-changing experience. Needless to say, I have done so much more in my four years here at Augustana than I ever imagined.
Who helped you?
First and foremost, my mother has helped me more than anyone else I know. She has continuously supported me in every decision I have ever made, been there when I needed her most, and always provided me with great advice. In addition, the professors in the psychology, sociology and art history departments have been very helpful in getting me to where I am today, specifically, my psychology advisor, Dr. Ruth Ann Johnson, my sociology advisor, Dr. Vicki Sommer, as well as my art history advisor, Dr. Margaret Morse. They have always been there for me, offered great advice, and helped me find opportunities on and off campus to get hands-on experience in the fields that I love so much. Furthermore, Chief Tom Phillis and Deputy Chief Mark Beckwith with the Public Safety/Police Department have allowed me to explore my interest in law enforcement. I always knew I was interested in law enforcement, but prior to being hired, I never had any experience in the field.
A peak experience?
One of my peak experiences was being hired by the Public Safety/Police Department. It allowed me to further my interest in the field and get some real-life experience. Additionally, in the two short years I have worked for the department, I have gained another family. The members of the department are some of the most caring people I have ever met, and I will never be able to thank them enough for all they have done for me.
What did you learn about yourself that has surprised you?
I learned that I am capable of a lot more than I once thought. I never would have guessed I would be graduating with two majors and a minor, especially in fields I never really saw myself in. These past four years have allowed me to find my passion, and that is such a great feeling.
How did you use Augie Choice?
I am using my Augie Choice to study abroad in Greece after graduation.
What will you miss the most?
I will miss all of the close-knit relationships I have made during my four years here.
Advice for the Class of 2020?
Take advantage of all of the resources that are available on campus because in a blink of an eye, it will be over.
"Through her coursework, internships and involvement on campus and in the community, Ashley has modeled the liberal arts experience. She has grown over these four years to become a true leader — one who listens to others and is willing to step up and do the hard work necessary to accomplish a task. With this combination of compassion and tenacity, along with her curiosity about the world around her, she will continue to lead in a life of service to others."