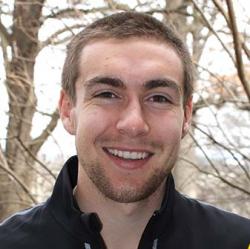 More Than I Imagined
Seniors reflect on accomplishments and look ahead
​Austin Schoeck
Graduation year: 2016
Majors: Political science
Minors: Communication studies and philosophy
Activities: Mortar Board Honor Society, Omicron Delta Kappa Honor Society, College Republicans Club, varsity tennis
Internship: United States Attorney's Office, 2014-2015
Post-grad plans: Drake University Law School this fall
Why Augustana?
I chose to attend Augustana because of its reputation for fostering strong student-faculty relationships. The small class sizes and advising programs help students to develop personal connections with their professors. These connections help students have incredible resources throughout their years at Augustana, and also in the future for things such as letters of recommendation for graduate school.


Are you where you thought you'd be four years ago?
I have surpassed where I thought I would be as a freshman, both in terms of my academic and athletic careers. I never would have imagined I would receive nearly a full-ride scholarship to my top-choice law school (Drake) or that I would go from being a full-time JV player as a freshman to a two-way varsity starter (in singles and doubles) as a junior and senior on the tennis team. 

Who helped you get to where you are now?
Two people who had a profound impact on my college experience were my political science advisor, Dr. Mariano Magalhães, and my tennis coach, Jonathan Miedema. They both helped me tap into my inner leadership abilities and hardworking attitude in order for me to become a better student, teammate and person throughout my career at Augustana.
A peak experience?
One of my peak experiences was last year's conference (tennis) tournament, in which we upset Wheaton in the semi-finals to reach the finals against Carthage. We had lost earlier in the year to Wheaton, so beating them in a very close match was an incredible experience. We ended up barely losing in the conference final to Carthage, but I hope those matches and the experience we gained from them can help us attain our team goal of bringing the CCIW championship back to Augustana this spring!
What has surprised you?
Reflecting on my college career, I am surprised at how much my attitude towards life in general changed. In high school, I was always a good student and athlete, but did not always work the hardest. In college, this changed immediately. I realized how it was silly to waste my God-given talents by not working as hard as I could in the classroom and on the court. I truly believe this was one of the biggest turning points in my life, and I thank the Augustana community for helping me to reach this turning point.
What will you miss the most?
I will miss my tennis teammates the most. In the last couple of years, my teammates and I have helped to transform the culture of the tennis program to one of hard work and perseverance both on and off the court. Our countless practices, workouts and matches together have helped us become a family, and I will miss each and every one of them greatly. 


Advice for the Class of 2020?
The most important piece of advice I received as a freshman, and what I want to give to the incoming class is that managing your time wisely is vital to success in college! One of the easiest ways to do this is to have a calendar in your dorm room, a planner in your backpack, or simply use the calendar app on your phone so that you can write down all the activities you have to ensure you allow enough time for homework, practices, etc.
"As a student, Austin is the sort of person who looks before he leaps. Confronted with an issue, he gathers the facts and listens to opposing views before forming and expressing his own convictions... not that he avoids controversial issues. As a student-athlete, he knows that the best way to approach competition is to prepare. In his Senior Inquiry, he built on work he had done in previous classes. In the end, he produced a powerful argument for re-thinking some basic principles of constitutional law. It was a pleasure to watch his ideas develop."