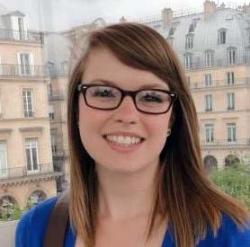 More Than I Imagined
Seniors reflect on accomplishments and look ahead
​Becca Strandberg
Graduation year: 2016
Majors: Elementary education and music
Activities: Sigma Alpha Iota international music fraternity, Jazz Ensemble, Augustana Symphonic Band, Clarinet Choir, Jazz Combo.
Post-grad plans: I hope to be part of the JETs program and teach English in Japan for at least a year! After that I plan to teach first or second grade here in the States.
Why Augustana?
You aren't just a number here. Professors genuinely care about who you are as a person, and they want to see you succeed... not only in their classes, but through the rest of your career!
Are you where you thought you'd be four years ago?
I definitely think a lot has changed since I started my journey here, and I'm not exactly sure where I thought I'd be four years ago. I wouldn't change any of it though! I'm exactly where I want to be now.
Who helped you?
The friends I have made here and the professors I see as role models have been so supportive of every decision I have had to make! It's nice having people who support you no matter what decision you make.
A peak experience?
My peak experience at Augie, along with how I used Augie Choice, was the Symphonic Band's tour to Japan. The band learned so much about Japanese culture, and the food was amazing! We met some amazing people and got to play alongside band members at the Kunitachi School of Music. It's so cool that despite language barriers, we were able to communicate and bond with others who love music as much as we do! I will never forget that experience.
What has surprised you?
I have learned a lot about myself over the past four years! I've learned that I am a lot stronger than I think I am, and that I still need to work on saying 'no.' I commit my time to way too many things, but I don't think I would ever have it any other way. I always have to be doing something!
What will you miss the most?
I will definitely miss the people the most. There are so many wonderful people I have met here whom I don't ever want to lose.
Advice for the Class of 2020?
Savor every single moment you have, and take advantage of as many opportunities as you can! If you have to make a tough decision, think about whether you will regret making that choice later on. If not, go for it!
"Since the very first day of her fall term in 2012, Becca has blessed us with her warm smile, her caring heart and her passion for young children and their education. She is the quintessential Augustana student who came to college to major in elementary education, play clarinet and piano in multiple ensembles, and become involved in as many activities as possible. It will be wonderful to watch her share these experiences with generations of young students throughout her teaching career."