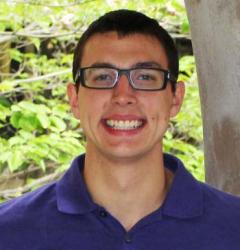 More Than I Imagined
Seniors reflect on accomplishments and look ahead
​Ben Ryan
Graduation year: 2016
Majors: Biochemistry, pre-medicine
Minors: Mathematics, chemistry
Activities: Varsity basketball (Academic All-American and NCAA Postgraduate Scholarship winner), Fellowship of Christian Athletes, peer mentor, community advisor, anatomy tutor and lab proctor
Post-grad plans: Reapply to medical school after taking a year off
Why Augustana?
I chose Augustana because I felt it was the perfect environment for me to excel in both academics and athletics. I wanted to be a part of the rich tradition of Augustana basketball, while challenging myself in the classroom to prepare myself for medical school.
Are you where you thought you'd be four years ago?
When I decided to come to Augie, I knew that I would be given a lot of opportunities, but I had no idea exactly what they would be or where they would take me. So, no, I think I'm in a better position than I thought I would've been in, thanks to the valuable lessons I learned, countless relationships I formed, and what I was able to accomplish with the opportunities that Augie not only provided but also taught me to take advantage of.
Who helped you?
Every professor and coach I've had in these past four years have helped me in some way or another, and I will always be grateful for that. Dr. Tallitsch and Coach Giovanine are two who really stand out to me and have been major factors in helping me get to where I am today. Without Coach G, I would've never known about Augie, and since day one, he has helped me grow in basketball, faith and, most importantly, as a person. On top of being a fantastic teacher, Dr. Tallitsch has always been there for me and many others for help in academics, planning for the future, and life in general. Also, I would never have been able to accomplish what I have these four years without the help and support of my friends, teammates and family.
A peak experience?
One peak experience was making it to the NCAA DIII Final Four my junior year. Being able to compete for a national championship with my teammates was an awesome experience. Also, having the Augie community support us by traveling to the games in Salem, Va., or streaming the game online really made the experience special. That weekend, even though we didn't win the whole thing, helped strengthen my relationships with my friends, teammates, coaches and my overall love for Augie.
What did you learn about yourself that has surprised you?
Whether I was spending countless hours with my friends eating in the CSL, late nights closing down the library with them or going to a professor's office hours to ask one question, but then leaving an hour later having talked about anything and everything except the one question. Looking back at my time at Augie, it will be the relationships I've developed with classmates, professors and coaches that I will remember and cherish more than anything.
How did you use Augie Choice?
I used my Augie Choice to help finance the basketball tour I took to Brazil with the team. We spent time in Sao Paulo and Rio de Janeiro playing against professional and national teams, and helped run youth basketball camps. In our free time, we visited Sugarloaf Mountain, the Christ the Redeemer statue, and the beaches of Copacabana and Ipanema. Being able to experience the Brazilian culture with my teammates was unbelievable.
What will you miss the most?
The welcoming and supporting community that is everywhere on campus. Whether it's the administration, faculty, staff or fellow classmates, you can tell that everybody cares for each other. Being able to walk into a professor's office and talk to them about classes, life and the future and playing basketball in a packed Carver Center are just two examples of this Augie community that I'll miss.
Advice for the Class of 2020?
Everybody has seen the college triangle that you can only choose two of a social life, good grades and sleep. There will be times during your four years that this is true, but when you graduate and look back on your Augie experience the time you got a great night's sleep will not be one of your best memories. So, take advantage of all that Augie has to offer both academically and socially. Stay open-minded and discover things for yourself, whether it's about a professor, club, class, organization or classmate—you'll never know what can happen.
"Ben Ryan is one of those students that exemplifies what an Augustana student-athlete is. Ben is an excellent person and an excellent student. He is also an excellent athlete, being named an Academic All-American, and chosen as a recipient of an NCAA Postgraduate Scholarship. Ben will continue to excel in medical school and in life. I have enjoyed knowing him in and out of the classroom, and I am proud to call him my student and my friend."