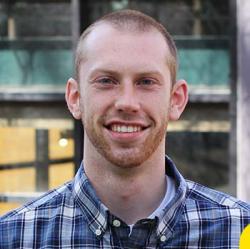 More Than I Imagined
Seniors reflect on accomplishments and look ahead
​Brandon Motzel
Graduation year: 2016
Majors: Pre-medicine and engineering physics
Activities: Varsity basketball, Fellowship of Christian Athletes, peer mentor, community advisor (Res Life), physics and anatomy tutor, Student Athletic Advisory Committee
Internships: I interned at the Baylor College of Medicine in the SMART Program through the Texas Medical Center Research Internship Program provided by Augustana. I researched the effects of HDAC-6 inhibitors on traumatic brain injuries in mice.
Post-grad plans: After taking a year off to work and get more hours in the medical field, I will reapply to medical school for the 2017-18 school year.
Why Augustana?
I chose Augustana because it was the perfect combination of athletics and academics. I knew I wanted to play basketball at a very high level at a small Division III school, but also focus on academics to prepare for medical school. On my visits to Augustana, I met with Coach G and Dr. Dyer, who helped me see that this was the perfect place for me.
Are you where you thought you'd be four years ago?
I would say that I am in an even better position than I expected to be. We have had an incredible four years of basketball, especially the last two seasons, including the Final Four. Academically, I have been put in a fantastical position to succeed and made great connections with faculty members. I never expected to get to know professors so well, and it has made a huge difference in my college career.
Who helped you?
Dr. Dyer and Dr. Tallitsch have really helped academically. Both are phenomenal teachers, but they have also taken the time outside of class to get to know me and my goals, and help me pursue them. Coach Giovanine has helped me grow as a basketball player, but more importantly, as a person.
A peak experience?
Going to the NCAA Division III Final Four as a junior was a peak experience for me. Playing in the national championship game with guys I had played with for three years was incredible. We came up just short, but the experience was unforgettable. Through all of our hard work together, we truly became a family and formed bonds that will last long after we stop playing basketball together.
What has surprised you?
I learned how driven I really am to become an orthopedic surgeon. I have had my fair share of tough classes, late nights and hard tests, but Augustana has helped show me how passionate I am for medicine and helping others.
How did you use your Augie Choice?
I used Augie Choice to help pay for my basketball trip to Brazil. We spent 10 days in Sao Paulo and Rio de Janeiro visiting popular tourist destinations, doing community service projects and playing basketball against several professional and national teams. It was an incredible experience.
What will you miss the most?
I will miss the sense of family that can be felt just about anywhere at Augustana. Whether it is from faculty, classmates, teammates, coaches or anyone in between, everyone genuinely cares for one another. It is something you truly have to experience for yourself to understand.
Advice for the Class of 2020?
Two pieces of advice: 1) TALK TO YOUR PROFESSORS. Get to know them. You'll be surprised how much it can help, and you will meet some pretty amazing individuals. 2) Keep an open mind about what type of groups, clubs or organizations you want to join. Don't knock it until you try it. You may just discover something you never imagined you'd be passionate about.
"Brandon Motzel (Motz) exemplifies what an Augustana student, and an Augustana athlete is. He has represented Augustana well during his four years here, and he will continue to do so after graduation. Motz is excellent in all his endeavors — personal, academic and athletic. He will be an excellent physician, and I have enjoyed knowing him in and out of the classroom. I am proud to call him my student and my friend."