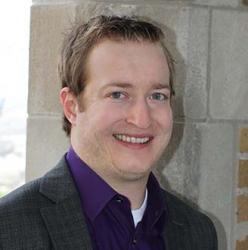 More Than I Imagined
Seniors reflect on accomplishments and look ahead
Brandon Wills
Graduation year: 2016
Major: Biology
Minor: Biochemistry
Activities: TriBeta Sigma Gamma, Lindahl Biology Club, Mortar Board National Honor Society, Concert Band
Internship: During the summer of 2015, I had an internship in the Biosciences Division at Argonne National Laboratory in Lemont, Ill. I worked on crystallizing proteins encoded by a gene that makes bacteria resistant to a number of antibiotics. I used the laboratory skills that I learned at Augustana and applied them to a topic that was completely new to me. I recently found out I have been selected to participate in another internship at Argonne this summer.
Post-grad plans: I will be going to Marquette University for my Ph.D. in biological sciences.
Why Augustana?
Coming from a smaller town and smaller high school, I always knew I wanted to attend a small college. I wanted to go somewhere that I would be more than just a number and where I could make great connections with my professors and be challenged academically. I also love playing music, so I wanted to attend a school where I could study science and stay involved with music. Since you do not have to be a music major to join any of Augustana's bands, it was the perfect fit to pursue both of my passions. It was also hard not to fall in love with Augustana's beautiful campus!
Are you where you thought you'd be four years ago?
If you would have asked me four years ago, I would have told you a completely different story about where I would be today. Coming in as a freshman, I knew I wanted to study biology but really had no idea what I wanted to do with my degree. In fact, attending graduate school never even crossed my mind. I never veered from my biology major, and attending Augustana helped me to decide what exactly I want to do. Since I first stepped foot on campus, I have had the opportunity to work alongside Dr. Lori Scott on her genetics-based research projects. Through these laboratory experiences, I started to develop a deep passion for research and started to think that this could be a potential career path for me. Now, in my senior year, I have decided that I will attend graduate school next fall, where I will be able to continue to fulfill my passion for conducting scientific research.
Who helped you?
My parents and my extended family have helped me the most. My mom and dad have always been there for whatever I needed. My professors have also been great role models. They provided me with the opportunities to develop the skills that are needed by professionals in the biology field. Not only have they helped me develop laboratory skills, they have also been excellent about writing me letters of recommendation for graduate school and sending me career opportunities when they come across them. Without their help, there's no way I could have had such a successful undergraduate career.
A peak experience?
While I have had many great experiences at Augustana, my peak experience was receiving the Hasselmo Prize for Academic Pursuit, which is a campus-wide annual prize awarded to one student. It was at that moment that I knew all the hard work and dedication that I had put into my studies had paid off. With the award, I have been able to work independently on my own research project, and I will be presenting the results of this study at Augustana's Celebration of Learning this spring.
What has surprised you?
Besides that I could live without my parents and do my own laundry, I have learned that I really enjoy working in the laboratory and conducting scientific research.
How did you use your Augie Choice?
I will be using my Augie Choice money to visit Greece for 2 1/2 weeks after I graduate. I am really looking forward to the experience.
What will you miss the most?
Definitely the friends that I have made. Being such a small school, it's hard not to walk around campus without seeing at least one person I know. I have met some wonderful friends that I hope to keep in touch with after graduation. I will miss the life I have known for the last four years and look forward to coming back as an Augustana alum.
Advice for the Class of 2020?
Don't be afraid to try something new. During my freshman year, I had to take a foreign language class. I took Latin, which I had never taken before, and ended up loving the class! Also, make sure you have a good balance between your classes and extracurricular activities. With the amount of work you will be doing for your classes, it's easy to get stressed out. Make sure you set aside some time to de-stress and do something you enjoy.
"It has been a pleasure to watch Brandon grow as a biologist over the years. During his Augustana career, he has become an accomplished scholar, ultimately being awarded the Nils Hasselmo Award for Academic Pursuit. He is a dedicated student with the skills necessary to become an excellent researcher. I expect great things as Brandon begins his graduate studies."