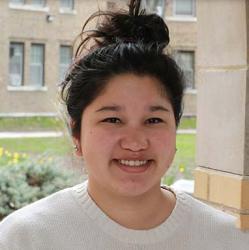 More Than I Imagined
Seniors reflect on accomplishments and look ahead
​Carissa Thalmann
Graduation year: 2016
Major: Psychology
Minor: Biology
Internship: I had an internship at Community Access back home in Chicago during summer 2015.
Post-grad plans: Case manager at UCP Seguin, a non-profit to help individuals with developmental and intellectual disabilities
Why Augustana?
I wanted to be a science major at the time, and they had good science classes.
Are you where you thought you'd be four years ago?
I didn't think I would have ended up a psychology person, but after I had my first psych class, I couldn't stop taking them.
Who helped you?
My freshman year advisor, Dr. Murphy, has been with me for the past four years—even during the year I didn't attend Augustana. She wasn't just an advisor for classes, but she became one of my good friends through these years by talking to me about absolutely anything on my mind, and she was always willing to listen and give advice.
A peak experience?
Being a part of the Black Lives Matter demonstrations on campus. This is a very important experience for me here because it finally gives students of color a voice and to let the campus know where we stand.
What did you learn about yourself that has surprised you?
I strengthened my morals a lot. I learned a lot about identity and how important it is to speak up for yourself and to speak up for others in adversity.
How did you use Augie Choice?
I used it for my internship in summer 2015.
What will you miss the most?
One-on-ones with professors to talk about school, life or whatever else comes up.
Advice for the Class of 2020?
Get comfortable with being uncomfortable. There will be a lot of experiences in college that require open minds and the ability to see perspectives that are different from your own.
"I have been extremely fortunate to have Carissa as an advisee and as a student. She is an amazing, well-rounded young scholar who exudes enthusiasm for learning and gaining knowledge and skills. Conversations with Carissa are experiences I will never forget. I look forward to hearing about her adventures in the Peace Corps. Carissa has so much to look forward to in her future!"