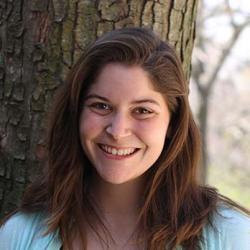 More Than I Imagined
Seniors reflect on accomplishments and look ahead
Catie Nelson
Graduation year: 2016
Majors: Religion and communication studies
Pre-seminary program
Activities: Varsity track and field, intramural flag football, Wings Athletics, Dance Marathon, Camp Kesem, UNYK multicultural dance troupe
Post-grad plans: I will be taking a gap year through Young Adults in Global Mission to complete a year of missionary work. When I return to the U.S., I will attend Lutheran Theological Southern Seminary in Columbia, S.C., to complete a master of divinity.
Why Augustana?
I like the small class sizes and the multiple opportunities to get involved. I could really see myself on campus for four years, and felt that I would fit in here.
Are you where you thought you'd be four years ago?
I am nowhere near where I thought I would be four years ago. During my four years at Augustana, I have had five declared majors. The liberal arts education that Augustana offers helped me to determine which career path is the correct one for me. By taking classes outside of my major, I had the opportunity to learn about different majors and career paths that I didn't even know about four years ago!
Who helped you?
I had an enormous amount of help from the faculty within the religion and communication departments as well as the CORE office. These people have always had their doors open for me to discuss all the possibilities for my future. They have helped me to learn about career paths that would be a good fit for me, and have helped me to discern everything from gap-year programs to grad schools.
A peak experience?
A peak experience was shaving my head for St. Baldrick's my sophomore year. This experience was one that I never imagined I would have. By shaving my head and donating around 20 inches of hair, I was able to experience what it is like to completely change my appearance and do something I love — help others. This was a peak experience for me because I received so much love and support from the wonderful people at Augustana.
What has surprised you?
I have learned that mistakes can be the best thing to happen to you. Before Augustana I thought that I had to do everything perfectly. However, through my many mistakes at Augustana, such as declaring the wrong major or being overinvolved, I have learned that by doing this I have ended up exactly where I am supposed to be. I wouldn't want to change any of these 'mistakes' because they helped me learn who I am and what is most important to me.
How did you use your Augie Choice?
I used my Augie Choice to go to Rome for a two-week summer program. I experienced the culture and history of Rome. I also had the opportunity to volunteer at a men's refugee center and find the only Lutheran church in Rome!
What will you miss the most?
I will miss the atmosphere of Augie the most. This campus has become my home, and I will miss seeing familiar faces everywhere I go. More specifically, I will miss the atmosphere of the Augustana track team. Not seeing my teammates, my track family, will be something that I will miss greatly after leaving.
Advice for the Class of 2020?
Enjoy every moment! Take advantage of every 'study break' that turns into an adventure that last hours with your friends. Finally, don't say 'no' to the opportunities that seem outside your comfort zone. These are the things that will stay with you after you leave your Augie home. You won't remember the nights that you got plenty of sleep!
"Like many students, Catie declared her religion major after revisiting and reimagining her vocation. She knew that she wanted to work with youth and was dedicated to service and leading a life of purpose. After attending an overnight 'Seminary Sampler' trip in Chicago, Catie began to imagine whether church leadership might be her calling. She ended up visiting all seven ELCA seminaries, carefully discerning which seminary program would enable her to flourish. By being open to go wherever her gifts match the needs of the world, Catie is a great example of someone who has more than a job after graduation — she has a meaningful vocation. I know that she will transform many lives in hospital, church, youth group and community settings!"