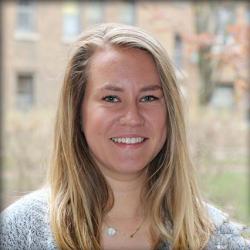 More Than I Imagined
Seniors reflect on accomplishments and look ahead
​Cori Duncan
Graduation year: 2016
Majors: Biology, pre-nursing
Minors: Psychology, sociology, public health
Activities: Varsity lacrosse, Camp Kesem, CORE ambassador, Sigma Pi Delta sorority, Beta Beta Beta Biological Honors Society.
Internship: Infection prevention intern at a UnityPoint Health hospital; various job shadow experiences at a UnityPoint Health hospital and Edgerton Women's Health Center.
Post-grad plans: Attend Saint Louis University to get my master's in the science of nursing.
Why Augustana?
Originally, I had no intention of attending a small school like Augustana; however, after I met the amazing professors, my advisor and the girls on the lacrosse team, I was hooked! It ended up being the only school I applied for. Also, after sitting through Dr. Tallitsch's human anatomy class, I knew that the small class sizes would be the most beneficial for my learning experience.
Are you where you thought you'd be four years ago?
Not even close! My freshman year I was so excited to be at Augustana, but I never imagined that I would get to travel the world, play lacrosse across the country and in Portugal, and meet some amazing people. During freshman year I had so many different interests, but through my time at Augustana, I have learned what I am truly passionate about.
Who helped you?
So many people have helped me get to where I am today. I would have to thank my family, friends, teammates and professors for supporting me and pushing me to achieve all that I have. Without their support and encouragement, I would not be where I am today.
A peak experience?
My most memorable experience was traveling to Nicaragua. On this trip, other students and I learned about Nicaragua's history and culture, and we set up health clinics for rural communities. This trip helped me discover my passion for public health and preventative medicine, which is something I want to pursue in nursing school.
What did you learn about yourself that has surprised you?
I learned about the passion I have for service and helping others. Taking two service-learning courses while at Augustana allowed me to explore the different types of community service and to realize that I really enjoy helping kids. Camp Kesem and my various other volunteer experiences have allowed me to learn that while helping others, you learn a lot about your own character and values.
How did you use Augie Choice?
I used my Augie Choice to travel to Nicaragua.
What will you miss the most?
I will miss all the people at Augustana. Augie's welcoming community will be hard to find anywhere else. The people at Augustana are like my second family, and it is hard to imagine that I will be leaving them this May. I will miss my teammates, friends, professors and staff, but I know that they are never too far away.
Advice for the Class of 2020?
Follow your passions. At the Activities Fair at the beginning of the year, there will be so many groups that you can join, so make sure to check out each group because you never know what will interest you! If you study and get involved in the things you are passionate about, then you will have an amazing college experience.
"When questioned about the benefits of our pre-nursing program, I often mention Cori. In four years at Augie, she has taken opportunities to develop her gifts, skills and talents that just aren't part of a defined professional nursing curriculum. She graduates in a few weeks as a biology major with minors in psychology, sociology and public health, has completed both an internship at the local hospital and a healthcare service-learning trip to Nicaragua, all while serving as captain for the lacrosse team this year (her fourth year on the squad)! Cori enters an accelerated nursing program this fall, well prepared to meet the challenges of caring for a diverse and changing population while using and understanding biomedical technologies. It's been my pleasure to work with Cori over the past three years, and I know her thoughtful and compassionate nature will be a blessing to her future patients and their families."