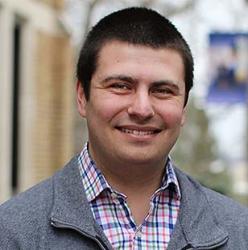 More Than I Imagined
Seniors reflect on accomplishments and look ahead
​Dan Walls
Graduation year: 2016
Majors: Music education and mathematics
Activities: Augustana Choir, Augustana Chamber Singers, Handel Oratorio Society, Phi Mu Alpha Sinfonia, National Association for Music Education, American Choral Directors Association, Campus Ministries, Omicron Delta Kappa leadership honor society
Internships: Student teaching at Pleasant Valley High School, Bettendorf, Iowa, and C.R. Hanna Elementary School, Orion, Ill.
Post-grad plans: Teach secondary vocal music and/or math in the Quad Cities, eastern Iowa, northern Illinois or the Chicago area.
Why Augustana?
After hearing the Augustana Choir perform on tour in my hometown of Rockford, Ill., I knew that I wanted to be a part of such an excellent music program as the one here at Augustana. I looked around at other schools, but felt that the faculty, staff and students at Augustana really wanted me here. Everyone was extremely kind, considerate and genuine during my visits and audition, and I decided that that was the environment that was right for me. The stunning campus also made it hard to resist!
Are you where you thought you'd be four years ago?
Definitely not! I came in expecting to major in music education and maybe get a minor in mathematics if it would fit. Thanks to my advisors, I was able to have a major not only in music education, but also in mathematics, and get an endorsement with my teaching certificate in secondary math — and all in four years, too! It was a lot of work, but it was completely worth it. Likewise, I never expected to join a fraternity, but joining Phi Mu Alpha Sinfonia, a national music fraternity, has blessed me with a network of brothers always there to support me as well as a plethora of opportunities I never would have expected.
Who helped you?
My advisors, Dr. Michael Zemek and Dr. Stacey Rodman, worked with me to meticulously plan out my four years so as to fit in all of the music education and mathematics coursework, especially with all of the bumps along the way. I would also like to thank all of my professors, directors and lesson instructors for their guidance. Most importantly, my family, friends and brothers who supported and challenged me to do my best every day at Augustana.
A peak experience?
Touring Germany, Denmark and Sweden with the Augustana Choir in 2015 was a peak experience. Being able to travel to the college's homeland (including a stop at Gävle, Sweden, the province from where our founders emigrated) to share our music and experience the culture was truly awe-inspiring, giving me a greater appreciation for the tradition of excellence at Augustana College. Being able to do this with 50 or so of my favorite people on campus really makes the whole experience stand out.
What has surprised you?
I was surprised to learn that I could experience so much in such a short time at school like Augustana. When I chose a small school, I was worried that there wouldn't be the opportunities present as there are at a large school. Fortunately, I was so wrong! Looking at the growth I have had on so many levels, I always surprise myself with what I would not have been without the experiences here at Augustana.
How did you use your Augie Choice?
I used my Augie Choice to help me go to Paris in the summer of 2014. I had the opportunity to spend five weeks living in one of the most beautiful cities in the world and studying the music of Paris and American writers in Paris.
What will you miss the most?
I am going to miss being on campus every day. Not only is campus so picturesque, but it is filled with the best people and opportunities that truly make Augustana unique. I have done so much here, and I will surely miss all of it once I graduate.
Advice for the Class of 2020?
Keep an open mind. Things may not go exactly as you expect, and you might (and most likely will) come into Augustana with one set of plans and leave with a completely different game plan. Be flexible, don't be too stubborn, and give it a chance. You'll be surprised at what will happen.
"Dan is living a liberal arts life as an engaged and interdisciplinary member of our community. As a musician, he leads, responds and creates through art; as a mathematician, he employs clear, analytical thinking and communication; and as an educator, he is planning a life of continued learning that supports the wonder of younger students. I am proud to have been a part of Dan's growth."