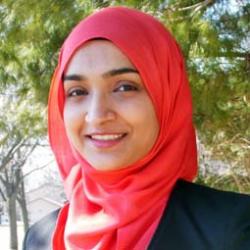 More Than I Imagined
Seniors reflect on accomplishments and look ahead
​Danya Tazyeen
Graduation year: 2016
Major: Computer science
Minors: Graphic design, Japanese
Activities: Reading/Writing Center, Muslim Student Association, Interfaith Understanding.
Internships: Augustana Web Guild, Part Time Student Business Process Pro at John Deere.
Post-grad plans: I will be working full-time in systems and application development at John Deere in Moline, Ill.
Why Augustana?
Taking a tour around campus and, most of all, interacting with teachers from the departments I was interested in was what made me decide to enroll. I was worried I might not get a good enough education in the arts while still pursuing interests in other areas, but the more I spoke with the professors and visited classes, I found that I would be able to get not only a great education, but also a unique experience that would set me apart from others in both the arts and sciences elsewhere.
Are you where you thought you'd be four years ago?
I am farther than where I thought I'd be. I have achieved many initial goals, accomplished new ones, and have seen some change for the better as I learned more about myself. For example, I never thought that by my graduation date I'd have a working 250-page draft of the novel I'd been wanting to write for years.
Who helped you?
Whenever I was earnest about an endeavor, there was never a lack of enthusiasm and willingness to help on the part of the Augustana faculty. Shout-out to Dr. Ann Boaden for being a great reader and friend, and Professor Kelvin Mason for guiding my artistic endeavors. They both helped me greatly in the pursuit of my geeky storytelling dreams.
A peak experience?
Becoming a peer tutor in the Reading/Writing Center was one of the most formative experiences in my college career. I learned how to deeply care for the views of others, and how to help them articulate their views without imposing my own thoughts onto what they were trying to convey. This has carried through in every aspect of my life and relationships.
What did you learn about yourself that has surprised you?
I have always been and will always be a liberal arts soul.
What will you miss the most?
I will definitely miss the nurturing, friendly environment. Even though I did not know everyone I went to school with, I felt like we were part of a larger family.
Advice for the Class of 2020?
Don't wait to start a project you've always wanted to do. You may never have these kinds of resources (professors, advisors, peers, libraries, collections) again with the accessibility you do now.
"Danya is the quintessential liberally educated student. She is equal parts artist and programmer, novelist and mathematician, as proficient in Japanese as she is JavaScript. Her interests are myriad, wide-ranging and ever-expanding, her enthusiasm for learning infectious. Over the last three years, the Reading/Writing Center and its clients have benefited from Danya's omnivorous curiosity, her unceasing kindness and her dedication to our shared pursuit of liberal learning."