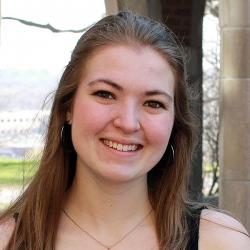 More Than I Imagined
Seniors reflect on accomplishments and look ahead
​Ellenelle Gilliam
Graduation year: 2016
Major: Music education (vocal)
Activities: Augustana Choir, Augustana Chamber Singers, National Association for Music Education, American Choral Directors Association, Sigma Alpha Iota–Delta Tau Chapter, Campus Ministries, Peer Mentor Program, Opera@Augustana, Damascus Road.
Internships: Student teaching at Rockridge Junior High and High School and at Sherrard Elementary.
Post-grad plans: I plan on teaching overseas on U.S. military bases or through an international program. There's so much to learn and explore in the world, and I strongly believe that whatever country I end up in, I will be learning just as much from my students as they will be learning from me.
Why Augustana?
Augustana fell into my lap. It was a "name drop" by a family friend that led to an application and a visit. When I came down for my music audition, I immediately fell in love with the campus, the community, and the music and education faculty. Everyone was so welcoming and supportive, the campus looked beautiful, and something just clicked for me. I knew before I left that day that I was going to be an Augie Viking.
Are you where you thought you'd be four years ago?
In some ways, yes. I've known for a while that I want to teach abroad, and the faculty and staff at Augustana helped me to realize that dream. However, I never could have predicted the growth I would have academically, spiritually and socially. My experiences at Augustana and the relationships I have built with friends and professors have helped to shape me into who I am today.
Who helped you?
There is an extensive list of people who have impacted my life here at Augustana. While my gratitude goes out to each of them, I know that I wouldn't be the person I am today without Dr. Rayapati, Dr. Crouch, Mrs. Ellis and Dr. Zemek. These four individuals are not only a big part of the reason why I am at Augustana, but they also have continued to push and challenge me beyond what I thought I was capable of as a student and as a person. Their constant support in all aspects of my life have shaped me into a better musician, a better teacher and a stronger person.
A peak experience?
My peak experience can be categorized with two words: global exploration. Here at Augustana, I had the opportunity to go on a pilgrimage to Taizé in France with a small group from Campus Ministries, tour Scandinavia with the Augustana Choir, and this summer I will be teaching music in Tanzania with two of my professors. These three trips not only allowed me to explore parts of the world I never imagined I would go to, but each trip provided time for self-discovery and reflection. The people and cultures I encountered while on these adventures have also helped me to grow into the person I am today.
What did you learn about yourself that has surprised you?
I learned what my strengths and weaknesses are and how to continue to grow from those. I also learned that delegating tasks is an OK thing to do. I love helping people when they come to me, but my friends and professors helped to remind me that in order to help others, I need to be able to take care of my own needs, too.
How did you use Augie Choice?
I used it for my first trip through the college to go to Taizé in France in the summer of 2014!
What will you miss the most?
I will miss the community here at Augustana. It will be strange transitioning from living so close to all of my friends to living in a place where I don't know anyone, but this is what the case was when I moved down to Augustana from Minnesota, and now Augie is a place I call home.
Advice for the Class of 2020?
Enjoy one day at a time because these years will fly by before you know it. Cherish the relationships you build with friends and faculty, and don't forget to try something new whenever you get the chance!
"Ellenelle has excelled in the broadest range of vocal styles, from leading roles in operas, to musical theatre, to pop culture music. She has distinguished herself in her academic work, in her relationships as a student leader and peer mentor, in service learning, and through study abroad in Europe and Africa. Her future students will be the happy beneficiaries of her many gifts, and the generosity and joy with which she shares them."