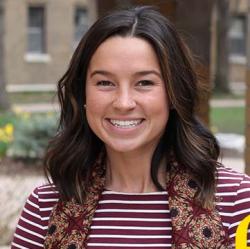 More Than I Imagined
Seniors reflect on accomplishments and look ahead
​Emma Bowman
Graduation year: 2016
Major: Business administration (marketing and management)
Minor: Graphic design
Activities: Phi Rho sorority
Internships: Student marketing intern at WVIK Quad Cities NPR; event planning and digital marketing intern at Snowstar Winter Sports Park
Post-grad plans: I plan to work in the marketing field, specifically digital marketing or event coordination. My ultimate goal is to land a marketing position within the ski industry.
Why Augustana?
I chose Augustana because it was a smaller school where I wouldn't be just another number. Living only 15 minutes away made the decision to come to Augustana a lot harder, when trying to spread my wings. However, it was the best decision I have made. Attending Augustana provided me with opportunities to explore what I truly wanted out of a college experience while still giving me the independence and feeling that I lived two hours away, just like a majority of Augie students.
Are you where you thought you'd be four years ago?
A lot happens in four years, and the personal growth that has come with it has been tremendous. I am very grateful to be where I am four years later! As a first-year, I knew I wanted to major in business administration, but I did not know exactly which concentration I would declare. I fell in love with the marketing and management courses and knew I could do a lot after graduation with those skills. Sophomore year I wondered into a graphic design class and never looked back.
Having a major and minor that combine both my creative knack and passions has made these four years fly by. I found my best friends within my sorority, Phi Rho; professors who pushed me to succeed in the business administration department; and a new place to call home at Augustana, all within four years.
Who helped you?
My family. Without them I would not have had the support I needed to accomplish everything that I have at Augustana. My parents are my No. 1 support system and have constantly provided me with love and unconditional encouragement to help me become who I am today.
I also owe it to my professors. They have been some of the most influential people in shaping me into who I am today and always encouraging me to go the extra mile, both in my studies and life goals. And I can't forget my friends. When life happens, they are always the ones to pick me up when I'm down, reassure me I can do whatever I put my mind to and always make sure I'm smiling along the way. I am so grateful to have been surrounded by these amazing groups of people and could never thank them enough.
A peak experience?
I honestly don't think I can pick just one. Reflecting back on these past four years, every weekend with my friends, sorority event, hour-and-50-minute class, office hours with professors and friendly hellos while walking through the quad is a peak experience in and of itself. The experiences that Augie provides its students, both in and out of the classroom, intentionally and unintentionally, are unique experiences that I am positive I could have only had at Augie. From taking a leap of faith into the slough to three hour-long lunches in the CSL with my best friends, all four years combined is a peak experience in my 22 years of life.
What has surprised you?
What surprised me the most is how much I could grow as a person. College is definitely a learning experience, in more ways than just within the classroom, and Augie allows for you to flourish as an individual. I learned incredible time management skills and how to step out of my comfort zone. I held positions and took on responsibilities that I never would have envisioned doing in high school. Because Augustana fosters an environment that encourages its students to step out of their comfort zone, I have learned more about myself than I ever would have. Walking across that stage in May, I can proudly say that I am a more empowered person than I was before I came to Augustana.
How did you use your Augie Choice?
I used my Augie Choice for a local internship with Snowstar Winter Sports Park that allowed me to take my classroom knowledge and apply it in the real world.
What will you miss the most?
The people. I am going to miss walking down the hall and being able to chat with my roommates, going on spontaneous coffee dates to Cool Beanz, and most of all, seeing those iconic maroon Phi Rho jackets everywhere on campus and always having a sister to lean on. The amount of unconditional love and support my Augie family has given me throughout these past four years is priceless and something that will be truly missed.
Advice for the Class of 2020?
Everyone tells you how fast these four years fly by, but you don't realize it until you're 10 weeks away from graduation. Looking back I am so happy I pushed myself out of my comfort zone and got involved on campus. That is where the memories are made. Running an event for OSL, winning your first game, volunteering for Viking Pups or just simply the 2 a.m. Village Inn runs with your best friends. Do it all; you won't regret it.
"I have had the fortune of having Emma in several of my classes. She approaches life with such a positivity and tenacity and seems to enjoy the challenge of excellence in whatever she does. I am sure she will embrace what life offers her ahead and do so with the cheerfulness, enthusiasm and diligence that has brought her success here at Augustana. To borrow from Maya Angelou, I'm sure Emma will '... always find a reason to smile.'"