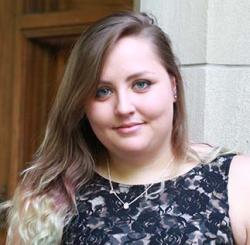 More Than I Imagined
Seniors reflect on accomplishments and look ahead
​Franki Compere
Graduation year: 2016
Major: Biology
Minor: Biochemistry
Activities: Symphony Orchestra, Sigma Alpha Iota, Western Equestrian Team, Sigma Xi, Beta Beta Beta, peer mentor
Post-grad plans: Entering a biology Ph.D. program in the fall at Marquette University
Why Augustana?
I chose to attend Augustana because of the wonderful biology program where I felt at home immediately, the orchestra and the equestrian team.
Are you where you thought you'd be four years ago?
I'm not where I thought I'd be four years ago because originally I wanted to go to veterinary school, but I found out that it was not right for me so I'm happy for how things turned out.
Who helped you?
My professors, especially Dr. Murphy, Dr. Gehler, Janina Ehrlich and Dr. Gould to name a few, were integral in helping me get to where I am now, but also the Augustana community as a whole. Dr. Murphy has been a wonderful advisor who helped me figure out what I was passionate about when I realized veterinary medicine was not for me and helped me get opportunities that I might not have otherwise gotten. Dr. Gehler pushed me as his research student to work hard and achieve lofty goals for an undergraduate student in research, unearthing and igniting my passion for biology research. Janina Ehrlich helped me continue my love for playing cello and develop my skills to become a fairly accomplished cellist by constantly pushing my boundaries and supporting me over the last four years. Dr. Gould helped me appreciate philosophy as well as recognizing that I would be an effective mentor to first-year students and recommending me to be a peer mentor after my sophomore year. Together, all of them, and many others, have shaped me into the person I am today and have helped me figure out and reach my goals.
A peak experience?
My peak experience was traveling with Dr. Gehler to present the research we worked on at the 2015 annual meeting of the American Society of Cell Biology. I had the opportunity to do two poster presentations of the research and experience what it's like to go to a conference with people from all over the world who are doing some sort of research that pertains to cell biology. I talked to grad students, post-docs and primary investigators from labs all over the country and also from Asia, Europe and South America. It was an amazing experience and really cemented that I had chosen the right path by applying to Ph.D. programs so that I could join their ranks as a future Ph.D. student.
What did you learn about yourself that has surprised you?
What I learned about myself over the last four years is that I am a deeply curious person, always wanting to know how and why things work, which ended up being perfect for studying science at a liberal arts school. Not only did I get some of those answers from my science classes, but we also spent time on finding answers to those types of questions in my other classes, too. This thirst for knowledge is another reason I chose to pursue a Ph.D. and feel that this kind of advanced degree is right for me.
How did you use Augie Choice?
I used my Augie Choice as a stipend while I was here in Rock Island to do my faculty research experience with Dr. Gehler the summer before my senior year.
What will you miss the most?
The thing I will miss most about Augustana is definitely the faculty. They're a wonderful group of people who are remarkably supportive and strive to help their students succeed while pushing them hard to achieve their goals.
Advice for the Class of 2020?
Be open to new opportunities and start connecting with the campus and the faculty as soon as you can. Having good professional relationships with professors will help you not only be a successful student but also when you are getting ready to graduate.
"Franki exhibits a genuine curiosity and passion for integrating seemingly disparate topics throughout the liberal arts. She is thoughtful about how her academic, research and personal experiences have shaped her as an individual, and she lights up when she discusses her passions. To say she 'geeks out' about learning and research is an understatement. Thank you, Franki, for allowing me to be a part of your Augustana experience."