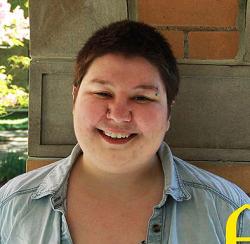 More Than I Imagined
Seniors reflect on accomplishments and look ahead
​Ginny Aumann
Graduation year: 2016
Majors: English (writing emphasis), women's and gender studies (WGS)
Minor: French
Activities:&nbspPhi Beta Kappa, Sigma Kappa Tau sorority, Augustana Observer student newspaper
Internship: I was an education intern at the Quad City Botanical Center this past summer. Currently, I compile the newsletter for the Scott County Historic Preservation Society, and I'm a writing intern at NormaLeah Ovarian Cancer Initiative.
Post-grad plans: For next year, I'll be moving to the Twin Cities in Minnesota to work at Our Savior's English Learning Center as part of Lutheran Volunteer Corps. After that, who knows.
Why Augustana?
The first time I visited, everyone I met was so friendly that I thought there was something in the water. The professors I talked to were engaging. The smoothies at Freshens were delicious, and there was chai in the Brew. Most of all, the campus was beautiful.
Are you where you thought you'd be four years ago?
Nope. I was decidedly undecided—in my possible majors, interests and opinions. I never thought I would be able to carefully consider ideas or situations, form thoughtful and complex opinions, and stick to them. I never thought I would like poetry or major in women's and gender studies. I certainly never thought I'd take an English class where I ended up milking goats at Wesley Acres. And as focused on grades and intelligence as I once was, I never thought I'd grow to love learning for its own sake and value kindness over wit.
Who helped you?
Too many people to name. My family, for their unbelievable strength and unending support. My friends, for their laughter, empathy, weird quirks and consistent presence—especially Eleanor and Ryan. And, of course, the many professors I have learned from and looked up to: Dr. Popple, Dr. Mahn, Araceli, Dr. Wee, Dr. Peters, Dr. Crowe, Dr. Simonsen and Dr. Varallo. They have always been around for so much more than schedule advising—the conversations in offices and on porches, the classes that have changed the way I see the world, their wise insights, their challenging questions, and their generosity in compassion and a helping hand have given me new direction and made Augustana wholly worth it. (Also the Nolans, my adoptive family, are the best.)
A peak experience?
Holden Term 2014, when I went off to the mountains in Washington State. There were so many important things about Holden, like the beautiful scenery and the welcoming people. More than anything, though, I learned how to live in an intentional community, to take the time to talk with people, how to be without internet or cell phone reception, how to make delicious brownies, how open religion can be, and how to live more sustainably. Holden is what started me on the path that led me to the Lutheran Volunteer Corps. I made so many good friends there. Also, I'll never forget the warning signs of an avalanche.
What did you learn about yourself that has surprised you?
I can lean on people and still be a strong person. And I'm actually capable of talking in class.
How did you use Augie Choice?
I used it to stay in the Quad Cities for my Botanical Center internship.
What will you miss the most?
The people. The view of campus turning onto 7th Avenue. Studying at Dead Poet's Espresso. Ellipsis House, even during a power outage. Taking photos of the Slough path during every season. Walking around campus aimlessly and stopping to talk to friends and then getting distracted for 45 minutes. All the campus events with free food. The Vagina Monologues. Old Main. Legends Fridays at 4 p.m.
Advice for the Class of 2020?
Get to know the Quad Cities and all the local coffee shops, restaurants and events they have to offer. Stay up later than you intended hanging out with your friends. Take classes that interest you, especially outside of your major. Be careful on the library steps after it rains or snows. Talk to your professors outside of class. Think critically and ask more questions. Don't put schoolwork or activities before your (mental, emotional, physical) health. Go to Schwiebert Park and walk across the bridge to Iowa with your friends and then joke about how you walked to a different state. Don't take things (like this advice) too seriously but listen carefully to other people. Learn about social justice. Most importantly, enjoy college and tell your people how much you love them.
"Beneath Ginny's quiet disposition simmers a motivated (and occasionally, pretty loud!) activist. An excellent researcher, vivid writer and devoted friend, she excels in her work in French, English and WGS; she has also started a feminist campus group, participated in #BlackLivesMatter protests, and helped propose a campus center for sexual health. Ginny promises to be that person in the room to whom everyone listens, because she reserves her voice for the moments when it really matters."