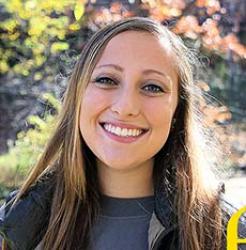 More Than I Imagined
Seniors reflect on accomplishments and look ahead
​Helen Offerman
Graduation year: 2016
Majors: Biology, English
Activities: Varsity cross country, varsity track, Sigma Pi Delta sorority, TriBeta
Internship: Quad City Botanical Center
Post-grad plans: I am pursuing postgraduate education in health care.
Why Augustana?
From the campus tours, interviews with various faculty members and overnight visits with the cross country team, I got the impression that the school sincerely cared about its students, which was a characteristic I did not find in many other schools. I also chose Augustana because it had a high percentage of students that graduated in four years.
Are you where you thought you'd be four years ago?
I am definitely not where I thought I would be. Four years ago, I had no idea that I would love traveling so much and may even want to find a job that would allow me to do so.
Who helped you?
My parents and my grandparents have always been very supportive of my decisions. They have all been my mentors in some way and always a constant reminder to not give up.
A peak experience?
Right now I am studying abroad in Ireland, and it is absolutely amazing. So far I have climbed a mountain, visited castles and had class in an Iron Age ringfort. I could not have asked for a better way to end my college experience.
What did you learn about yourself that has surprised you?
One of the biggest things that I have learned is that I am very independent. Augustana has helped me to realize this by living off campus and through studying abroad.
How did you use Augie Choice?
I used my Augie Choice for the study abroad term in Ireland.
What will you miss the most?
I will miss cross country camp and Christmastime at Augie. I will also miss seeing so many familiar people every day.
Advice for the Class of 2020?
Take advantage of all the great opportunities that Augustana and the Quad Cities have to offer. There is something for everyone, and if you do not know where to start, the faculty and staff love to help students out.
"Helen's pursuit of excellence in biology and English exemplifies the adventurous spirit of a true Viking. As her English professor, I could tell that the analytical moves she made in asking original questions about Jane Austen's novels would be equally useful in a laboratory setting. In looking at fruit in several of Austen's novels, Helen challenged all of us to consider the material circumstances of the 18th and 19th century, particularly the way colonialism influenced consumption on every level. She modeled the importance of relating seemingly insignificant details to larger historical contexts. Our seminar was a better, more thoughtful forum because of Helen's research and participation."