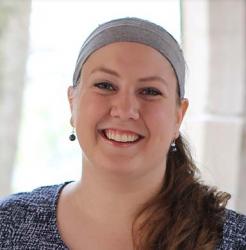 More Than I Imagined
Seniors reflect on accomplishments and look ahead
​Jamie Hochmuth
Graduation year: 2016
Majors: Business (management and marketing), creative writing
Activities: Augustana Choir, Opera@Augustana, theatre, SAGA Literary Magazine, Sigma Alpha Iota music fraternity, Campus Ministries.
Internships: Summer internship in London at a small publishing company named Can of Worms Enterprises Ltd.; summer internship at Augsburg Fortress–sparkhouse, the publishing company of the ELCA
Post-grad plans: Looking for a full-time position in Milwaukee at a company that is community-oriented and/or non-profit. I want to combine my majors into a publishing position, marketing/communications/public relations or administrative assistant position.
Why Augustana?
I initially looked at Augustana because both my parents went here, and when I visited, it immediately felt like home. All of the professors were interested in me as a person, and the liberal arts education allowed me to focus on all of my passions instead of having to pick and choose.
Are you where you thought you'd be four years ago?
I'm definitely not where I thought I would be, but that's an incredible thing. Throughout college I have discovered more and more about myself, and in some ways, I'm drastically different than I expected. But I am leaving college very secure and happy about who I am and what my life is going to be like.
Who helped you?
Honestly, my friends here at school have been amazing. They are a support system stronger than I ever expected to have. My professors have also been an incredible influence and have cared for me through everything. Everyone has stood by me in ways I never imagined.
A peak experience?
Playing Mrs. Lovett in "Sweeney Todd." It's been incredible being at a college where I can double major in two completely different fields, and then also be able to be in top choirs and the lead in the musical. I've been able to pursue all of my passions as well as experience other liberal arts subjects. And then I get to work with a bunch of really fantastic people from disciplines completely different from my own.
What did you learn about yourself that has surprised you?
I have discovered a lot of new things about myself while I've been here, and most of them have surprised me. My self-identity has changed, as well as my values and views of the world, and my plans for the future. But all the changes have helped me realize who I am, and I'm so happy I've had the opportunity to develop myself while at Augustana.
How did you use Augie Choice?
I used Augie Choice to spend a summer living and working in London, which is an experience I will never forget. It was amazing to call another place in the world (especially a place I love so much) home for a little while. I also had an amazing internship experience over there and got to take a couple fantastic classes that really engaged me in London culture.
What will you miss the most?
I am really going to miss the relationships I've made here, but I'm happy to know most of them will continue even when I am away from Augie. The people I've met here are going to be lifelong friends, and I know that no matter where I go or what I do, I have people that will love and support me.
Advice for the Class of 2020?
Don't be afraid to explore your options and yourself. College is a time of big change, but it can be the best experience if you go out there and grab ahold of it.
"Jamie has used her Augustana education to absolutely bloom. She arrived with an impressive intelligence, but she's graduating with a kind of luminous strength and passion that's a result of pushing and testing herself, taking risks, being open-minded and true to herself and with her peers. Here's to the liberal arts in action!"