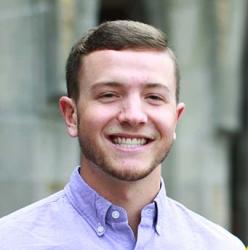 More Than I Imagined
Seniors reflect on accomplishments and look ahead
​Jeff Prior
Graduation year: 2016
Majors: Engineering physics, computer science and applied mathematics
Activities: Varsity baseball, Young Life Quad Cities, Rocky Mountain Student Club
Post-grad plans: I will be attending graduate school at the University of Illinois or the University of Michigan to attain a master's in mechanical engineering.
Why Augustana?
Initially, I thought I would never leave my home state of Colorado to attend college, but I fell in love with Augustana from the moment I stepped on campus. Not only is the campus beautiful, the community of professors and students seemed to be something special that I wanted to be a part of.


Are you where you thought you'd be four years ago?
Not at all. I never thought that I would have the opportunities that I have had over the past four years. I have found new interests that led me to adding two additional majors. I traveled to Germany over a summer. I played a game I love for four more years, and I met an incredible number of people who I will never forget.
Who helped you?
My family, friends and professors all helped me. I would not be here without the love and encouragement my family and friends have constantly provided me. My family also supported me financially, which allowed me to pursue my passions for four years. All the while, my professors taught me the persistence and drive necessary to seek answers to every question posed to me and to achieve my goals.
A peak experience?
It is extremely difficult to pinpoint one experience, but I would have to say building the relationships that I have over my four years here. I have been blessed to meet people who have been by my side through the ups and downs of life. That includes the friends that I met during Welcome Week freshman year, my teammates that I have worked alongside every year, all those involved in Young Life Quad Cities, and each of my professors who took the time to work with me.
What has surprised you?
I think it surprised me how willing I became to push myself outside my own comfort zone. I have always thought of myself as a safe and calculated person, but being here I learned that not only am I willing to be uncomfortable, but also the value in doing something outside the ordinary. Pushing myself in that way academically, athletically and through the clubs I was involved in was what allowed me to achieve what I did here.
How did you use your Augie Choice?
I traveled to Germany and Switzerland on the engineering-physics and German departments' joint trip over the summer following my junior year. It was an amazing trip and an unforgettable experience being an outsider in a foreign country.
What will you miss the most?
There is no doubt I will miss all of the people here at Augustana as I graduate and move forward with my career. I can only hope that I will be able to keep in touch with as many as possible as we travel down different paths.
Advice for the Class of 2020?
Always push yourself to step outside your comfort zone. Try to experience something new while you are here, whether it be in academics, a club, sport or other activity. If you do that you are going to find something great at Augustana. At the same time, make sure to enjoy every second of it because your four years here will go by way too quickly.
"Jeff is a considerate student with impeccable morals and character. His intellectual ability and work ethic are beyond compare. He demonstrated this throughout his time here at Augustana whether it be in my engineering classes, on the baseball diamond or while traveling abroad through Germany and Switzerland. Jeff has a very bright future, and I can't wait to see his accomplishments both in and after grad school."