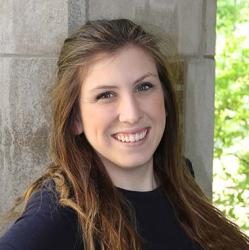 More Than I Imagined
Seniors reflect on accomplishments and look ahead
​Jenna Jensen
Graduation year: 2016
Majors: Mathematics and teaching mathematics
Activities: Augustana Dance Company, Chi Alpha Pi sorority, Vikettes, Mortar Board, Order of Omega, OSL Leadership Academy
Post-grad plans: Teach high school algebra in Somonauk, Ill.
Why Augustana?
Augustana was the only small school that I chose to apply to. I actually have wanted to go to Augustana College since I was in 7th grade. I visited the campus with my older brother and fell in love with it. I came during Homecoming weekend, and the students were doing the cardboard regatta. I loved the small class sizes and all of the people I met on campus. I am also a very involved person, and I was excited for the clubs and organizations that were offered at Augustana.
Are you where you thought you'd be four years ago?
When I came to Augustana I was not sure what I wanted to major in. I was choosing between three majors—communication studies, education and business. I am happy to say that I chose education. I did not think that I would have had all the great experiences the education department has offered me. I also did not think that I would have all the amazing friends that I have today and all the great experiences I have had.
Who helped you?
A few people really influenced me. First, my roommates and best friends. They have been there for me through everything; they have always been supportive and always push me to be my best. My parents have also been extremely supportive. They encourage me and show that they are proud of me. My advisors and professors have also played a vital role in my development as a student and a teacher.
A peak experience?
One of the greatest experiences I have had at Augustana was student teaching. I learned a lot about myself during this time. I learned what type of teacher I am, and how I can use my strengths to help my students in the classroom. After my student teaching, I was even more excited to take on my own classroom.
What did you learn about yourself that has surprised you?
I learned that my calling is to be a teacher and that mathematics has a special place in my heart. Again, when I came into Augustana, I was not sure what I wanted to major in, and throughout my courses and experiences in the education department, I realized just how much teaching others means to me. I also was surprised at how much I appreciate math now. My math courses have led me to be even more interested in furthering my math education.
How did you use Augie Choice?
I used my Augie Choice for the study abroad program in Norway. I took two courses on education and health in Norway, and then went on the Norway trip for 10 days. This was one of the most amazing experiences I have ever had. I was able to sit in and work in a Norwegian school. This was a very fitting experience, as I have always dreamed of teaching abroad.
What will you miss the most?
I will miss my time with the Augustana Dance Company most. I have had such an amazing experience with the girls on the team and have truly met some of my best friends through the company. The company has allowed me to do what I love, and I couldn't be more thankful to have all those girls in my life.
Advice for the Class of 2020?
Take your time at Augustana to do what you love. If you love a sport, find a way to play that sport. If you love business, join a business club. I would definitely suggest getting involved. There are so many opportunities that Augustana has to offer, and I believe there truly is something for everyone.
"It has been a pleasure to watch Jenna grow over the five courses we've had together over four years. She has developed into a confident member of the mathematical community who will make an excellent teacher for another generation of young minds. It has been particularly exciting to see her make connections between her diverse interests, from math to dance, to find a coherent understanding of herself and her future."