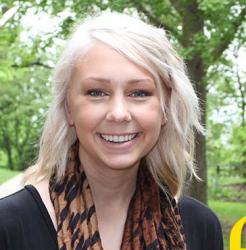 More Than I Imagined
Seniors reflect on accomplishments and look ahead
​Jessica Campbell
Graduation year: 2016
Majors: Accounting, business administration (finance)
Activities: Phi Rho sorority
Internship: Audit intern at Deloitte & Touche
Post-grad plans: In September, begin working full-time as a staff audit assistant for Deloitte & Touche in Chicago and pass CPA exam.
Why Augustana?
During my college search, my dad recommended looking at Augustana. When he attended graduate school for physical therapy, there were several Augie grads in his program. I knew Augustana had a great reputation and the ability to provide me with many opportunities. As I took my first tour of campus, I instantly knew I wanted to attend Augustana. I loved the atmosphere, scenery and the resources the college provides to students. Augie provided an environment that made campus my home away from home.
Are you where you thought you'd be four years ago?
Not at all! As a first year, I had no clue what I wanted to do with my life. I started out trying to choose between chemistry/pharmacy or accounting/business—complete opposites. The faculty at Augie helps you find the right fit for yourself. As soon as I took my first accounting courses, I knew where I wanted to be. The accounting and business major has provided me with endless opportunities and expanded my knowledge. Besides figuring out my major, I never expected so much personal growth. At Augie, everyone I encountered here—from my best friends and my sorority to my professors have made me want to grow as a person. Augie has given me so much in the past four years.
Who helped you?
My family has been my biggest supporters. I owe half of my accomplishments to my parents. They were always a phone call away or willing to come up for a visit when I was feeling homesick or stressed from school. I cannot thank them enough for the amount of emotional support, positive encouragement and drive they have given me. Another support system was my sorority sisters and best friends. Whenever I was feeling down or just needed a break from school, someone was always there. Another big contributor to my success at Augustana is the faculty. All of the accounting and business department faculty were easy to reach and responsive to my questions. My accounting advisor, Dr. Delaney, was also a contributor to my success here. He guided me through the accounting major that has led me to a full-time offer at Deloitte. He is definitely a faculty member that personally cares about his students' futures. I am very thankful for all the help I have received from Augustana's faculty.
A peak experience?
I do not think I can chose one memory as my peak experience. One of my greatest moments at Augie was receiving my full-time offer with Deloitte in Chicago. Living and working in the city has been a goal of mine for a long time. Augustana provided me with many resources that led me to this offer. Augie does a great job at helping you build your résumé, interview skills, confidence, and teach you how to grow as a professional.
What did you learn about yourself that has surprised you?
I have been surprised by my personal growth and successes. Over my college career, I have become more willing to push myself out of my comfort zone. If you try to stay comfortable, you will never grow as a person. I have noticed my confidence, knowledge and time management skills grow. Augie allows you to challenge yourself whether it is in your academic skills, leadership skills, social skills, etc.
How did you use Augie Choice?
I used my Augie Choice for my internship at Deloitte this past summer.
What will you miss the most?
I will miss my professors the most because I love taking their classes and talking with them. I will also miss all the clubs and activities I have been involved in during college.
Advice for the Class of 2020?
Enjoy the next four years!! I am in disbelief that I am actually a graduating senior already. Starting a new chapter of your life is always an awkward transition, but take advantage of what Augie has to offer. You will eventually find your niche within the Augie bubble!
"I have really enjoyed working with Jessica. She was focused on becoming an accounting major soon after she arrived on campus and has not looked back since. Jessica is one of our 'go to' students for recruiting and special events with visitors, and she was a star on our AICPA case competition team. She has consistently been a top student in each class because of her tremendous work ethic. I wish Jessica all the best as she begins her career at Deloitte."