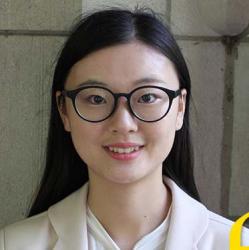 More Than I Imagined
Seniors reflect on accomplishments and look ahead
​Jessica Zhou
Graduation year: 2016
Majors: Accounting
Minors: Communication studies
Activities: WAUG, Jenny Lind Vocal Ensemble, Office of Multicultural Student Life
Internship: Core assurance intern at PricewaterhouseCoopers (PwC); accounting intern at Ticketek in Australia
Post-grad plans: I will start my full-time position at PwC in Chicago as a core assurance associate.
Why Augustana?
I loved the idea of a liberal arts education. I wanted to be very involved on campus so a smaller school would provide more opportunity to explore. Also the relationships with professors would be very close because of the small classroom setting.
Are you where you thought you'd be four years ago?
Not at all. When I first came to Augie from China, I didn't know what I was going to study or do in the future. Then I declared my communication studies major and accounting major. During my junior year, I went to Australia, and during my senior year, I went to Chicago at PwC. Through my two accounting internships, I learned that I am passionate about audit. I'm lucky that I will be able to work in the area I am interested in after graduation.
Who helped you?
I would not be able to get this far without helping from my accounting professors and the CORE office. All of my accounting professors are very caring and helpful to students. I not only learned fundamental knowledge, but also built good relationships with them. At the same time CORE office helped me with my interviews, which made me realize who I am and my advantages. I would not get my internship/full time at PwC without listening to their advice.
A peak experience?
I can't decide between my internship in Sydney or in Chicago with PwC-two different positions in different countries. I never thought I could work in a firm in another country, neither Australia nor the U.S. These are my memorable experiences because I met great people and had an idea before I graduated of what my future will be like.
What did you learn about yourself that has surprised you?
I realized how important it is to build good relationships with other people because every person has his own advantage that I might not have. My friends, my classmates and my professors always make me think how I can improve in many different ways.
How did you use Augie Choice?
I used Augie Choice for my internship in Australia.
What will you miss the most?
I will miss my professors the most because I love taking their classes and talking with them. I will also miss all the clubs and activities I have been involved in during college.
Advice for the Class of 2020?
Get out of your comfort zone. Learn from your peers and professors because they will enlighten you. If you have a question or a problem, there is always a place/a person you can go at Augie to figure it out. So take advantage of this while you are at Augie and enjoy your four years.
"Jessica has been tenacious in her studies at Augustana. Her hard work has paid off with a highly sought internship and full-time employment offer at PricewaterhouseCoopers in Chicago. Jessica is always looking to learn more, and she asks great questions. The energy she brings to her work every day will no doubt pay big dividends in the future as she pursues a career in public accounting. I look forward to keeping up with Jessica as she starts her career with a prestigious Big Four accounting firm."