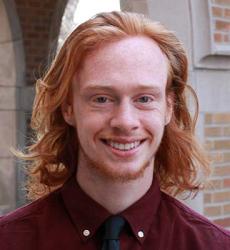 More Than I Imagined
Seniors reflect on accomplishments and look ahead
​Keith Sands
Graduation year: 2016
Majors: Mathematics, secondary education
Activities: Varsity cross country, varsity track & field
Post-grad plans: I leave in July for a position with the Peace Corps, teaching math in Tanzania for 27 months.
Why Augustana?
I loved having the opportunity to focus on athletics as well as academics. It was not hard to notice that Augustana is great at facilitating the balance between the two. I also chose Augustana because of the overwhelming support for everybody and from everybody that I noticed on my first visit. The support comes from your friends, teammates, professors, fellow students and the institution as a whole. I can't imagine a more supportive environment than Augustana.
Are you where you thought you'd be four years ago?
I am not where I thought I would be. Four years ago, I was not nearly as outgoing and understanding. Augustana has opened me up to all sorts of different philosophies, ideologies and viewpoints. Four years ago, I would not have signed up to spend over two years in Africa. Not only would I not have been interested in learning a different culture, but I would have been too afraid. I am now a much more confident and self-assured person. I feel I have what it takes to survive after graduation.
Who helped you?
There are so many friends and professors who helped me get to where I am now, but if I had to pick one person, it would be Paul Olsen. Ols' has taught me more about myself and about life than I ever would have dreamed. You could write a book about the teachings of Paul Olsen. He has many mantras, but the one that has impacted me the most is "the wealth of life is boundless." It sounds corny, but after a while you really start to believe it. At that point, you know that you can do anything you want in this life.
A peak experience?
One that comes to mind is winning the track & field indoor conference meet this year. Until this year, nobody had ever won it, except for North Central. Being a part of a group that took down a team that has been undefeated in indoor conference competition for almost two decades was pretty spectacular. You really get the sense of being a part of something bigger than yourself.
What has surprised you?
It really surprised me when I realized that I wanted to teach and that I have what it takes to be a teacher. In high school, I was terrified of getting in front of a class and giving any presentation. At Augie, I learned to have the confidence that it takes to get in front of a group of people and teach.
How did you use your Augie Choice?
I used Augie Choice to go to Jamaica my junior year over spring break. We spent two weeks on the Island. The first week we lived as tourists, and the second week we taught in inner-city Kingston. It was an eye-opening experience that helped me decide to join the Peace Corps.
What will you miss the most?
I am going to miss my friends the most. I have gotten to know a lot of amazing people as if they were my family. For four years, I have lived with them, studied with them, gone to class with them, ran with them and ate with them. I've grown closer to my friends than I ever thought I could. I am going to miss not having them around next year.
Advice for the Class of 2020?
Find your niche in Augustana. There are so many sports, clubs and organizations that are all so welcoming. Become a part of something, and cherish the Augie experience as long as you can.
"Keith's cross country teammates elected him to be a captain. Different teammates selected Keith to be a captain in track. Forty men on the cross-country team and over a 100 in track! They obviously respect his talent, work ethic and leadership abilities. Throughout his career, Keith has had exceptional success as the #1 runner in cross country and as an award-winning track athlete. On top of all that he has a superior GPA in math education. Keith's success comes even more out of his character than from his talent and work ethic. I have watched him encourage the newcomer, change the attitude of a less committed teammate, and share his enthusiasm for team and individual success. It is an honor to be his coach; it is a privilege to have him on our team."