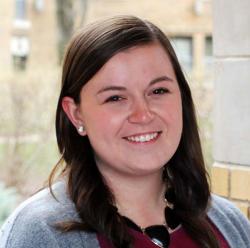 More Than I Imagined
Seniors reflect on accomplishments and look ahead
​Kelsi Rogers
Graduation year: 2016
Majors: Biology (pre-medicine), French
Minor: Biochemistry
Activities: Chi Omega Gamma sorority, Reading/Writing Center peer tutor, ACHOO/JETS.
Internships: I am an intern at Kaminski Pain & Performance Care, a local chiropractic clinic.
Post-grad plans: Attend the West Virginia School of Osteopathic Medicine in the fall.
Why Augustana?
I liked the small school atmosphere, and I wanted to be somewhere that felt like home. I also liked all of the opportunities available to students outside of the classroom.
Are you where you thought you'd be four years ago?
Definitely not! I always thought I would stay in the Midwest for my whole life, but because of Augie, I have a chance to start a new adventure in a completely different and exciting area of the country.
Who helped you?
It's hard to thank everyone who has helped me along the way because so many people have contributed to my success, but I definitely would not be where I am without the help of my parents. They've always supported my goals, and my mom has given me an excellent example of what it means to be determined and hardworking. I also owe a lot to my professors in the biology and French departments. Their guidance and support made achieving my goals possible.
A peak experience?
A peak experience I had while at Augie was helping my advisor and professor, Bradley Kennedy, teach a cadaver anatomy seminar to high school students last summer. It was really fun to interact with students who were just beginning their interest in biology, and I learned a lot, too!
What has surprised you?
I'm surprised by how open to trying new things I've become. A lot of the great experiences I've had at Augie are because I stepped out of my comfort zone, and I'm happy that I've been able to do that.
How did you use your Augie Choice?
I went on the Nicaragua service-learning trip the summer before my junior year.
What will you miss the most?
Everything! More specifically though, I'll really miss all of the great friends I've made during the past four years. There is probably never going to be another time that all of my closest friends are just a short walk away, and I know that will be hard to get used to.
Advice for the Class of 2020?
Do everything you can in the next four years. Obviously, focus on academics, but I think every senior will agree that the best times we've had in the past four years have happened outside of the classroom. Go to football games, join different clubs, get an internship: Those will be the things that help you grow as a person and make your Augie experience the best it can be.
"Kelsi has a knack for synthesizing disparate ideas and experiences into new insights. In her English tutoring, she draws on her experience as a French speaker to rephrase her suggestions for greater clarity. She asks incisive questions to 'diagnose' the writing issue at hand, connecting disciplines as she in turn connects with diverse clients. Her cultural sensitivity, calming presence and careful listening will serve her well in the medical field."