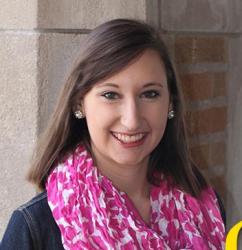 More Than I Imagined
Seniors reflect on accomplishments and look ahead
​Kristen Santoro
Graduation year: 2016
Major: Communication sciences and disorders (CSD)
Minor: Spanish
Activities: Reading Writing Center peer tutor, Chi Alpha Pi sorority, Student Speech-Language-Hearing Association, Order of Omega, Mortar Board, OSL Leadership Academy
Internship: Three terms of clinical experience at the Augustana Center for Speech, Language, and Hearing.
Post-grad plans: I will pursue a master's in speech-language pathology at the University of Northern Iowa. Eventually, I hope to work in an elementary school as a speech-language pathologist.
Why Augustana?
I was already set on attending a large university when I came to visit a friend at Augustana for the weekend. My parents convinced me to go on a campus tour and meet with "Dr. J" (Dr. Kathy Jakielski) in the CSD department, just to see what the school had to offer. I was so impressed with the individual, undivided attention that I received from the head of the CSD department (on a Saturday), and I was blown away by all the opportunities within my intended major. I felt so comfortable on the campus, and I quickly realized that Augustana was a school that would truly allow me to thrive. I called my parents on the way home and told them that I had a new school to add to my list. The rest is history!
Are you where you thought you'd be four years ago?
Thanks to my aunt, who introduced me to the field of speech-language pathology, I knew four years ago that my goal after Augustana was grad school. Four years ago, I was unsure of my ability to reach that goal. All I had heard were those scary statistics. I knew how competitive it was! Even if I did get in, I sure wouldn't have a life outside of school… but here I am four years later, solidifying plans to begin my first-choice graduate program in the fall (I even have friends and a social life!). This may not be where I thought I'd be, but it's more than where I hoped I'd be.
Who helped you?
My professors, advisors and bosses have helped me immensely by serving as passionate and enthusiastic role models for me as I found my niche at Augustana. I am thankful for my friends and roommates, who have given me a second family and a second home at Augustana. And of course, I would not be where I am today without the love, support, encouragement, inspiration and comic relief from the other 2/3 of the "Santoro Trifecta," my parents, RoseMom and PhilDad.
A peak experience?
For the purpose of incorporating a community outreach component in my CSD Senior Inquiry research experience, I volunteered to present classes through Project Nest, a regional educational and incentive program for at-risk new and expectant mothers in the Quad Cities. The classes were on the topic of book sharing between mother-child pairs. While at times it was definitely challenging, this experience gave me the unique opportunity to put my research into practice in a way that made a difference in the community.
What has surprised you?
Throughout these past four years, I have had the opportunity to work with clients in the Augustana Center for Speech, Language and Hearing. I have been able to help my peers through my position as a peer tutor in the Reading Writing Center, and as an individual tutor for various CSD courses. My gravitation towards jobs and experiences such as these has helped me learn that I have a passion and talent for connecting with individuals on a one-to-one basis in a sort of mentorship role. It brings me joy to see an individual grow and succeed as I get to know them as a person and am able to uncover their strengths. This reinforces my conviction that I am well-suited for the field of speech-language pathology.
How did you use your Augie Choice?
I used my Augie Choice to go to Guatemala during spring break of my junior year. It was an incredibly eye-opening experience, and I learned a lot about child development in developing countries!
What will you miss the most?
I will miss being able to recognize and say 'Hi!' to 95 percent of the friendly and familiar faces I see on and around campus. I will miss that sense of belonging and acceptance that comes along with being much more than just a number at Augustana.
Advice for the Class of 2020?
Surround yourself with those you consider role models. They will challenge you, support you and help you to become the best 'you' that you can be!
"I have appreciated having Kristen as a peer tutor these past three years in the Reading/Writing Center (RWC). Her enthusiasm for learning and teaching is infectious and inspires other students to try new, challenging strategies in their academic work. She finds creative and original ways of reaching her students, always connecting their goals and needs with the most suitable means of teaching them. I have watched her draw amazing idea maps to explain complicated readings to a student in the RWC, and I have seen her invent colorful games to help a client in a CSD clinical practice a particular vocal sound. Her authentically optimistic personality models the resilience and self-confidence we want all Augustana students to develop in their years with us."