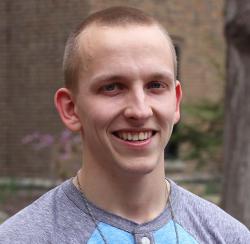 More Than I Imagined
Seniors reflect on accomplishments and look ahead
​Kyle Cluver
Graduation year: 2016
Major: Secondary education and mathematics
Activities: Varsity track & field
Internship: Student teaching at Bettendorf (Iowa) Middle School.
Post-grad plans: Teach math at Carmel (Ind.) High School.
Why Augustana?
I wanted to continue to be a student-athlete in college, and here I was able to get the best of both worlds. As an education major, I was able to be part of one of the best education programs in the state, and that was a huge deal to me. To say that I have graduated from Augustana as a secondary education major looks great on a résumé. Then, being a member of such a great track program in Division III was the icing on the cake. Coach Olsen, or Ols as we all call him, makes you not only a better athlete, but also a better all-around man by the philosophies he instills in us.
Are you where you thought you'd be four years ago?
Yes, I am exactly where I thought I would be! I knew that I would be getting a great education that would prepare me to succeed in life and that is exactly what has happened. I am a bit more nervous about entering the 'real world' than I had imagined, but I know I have been well prepared for the challenges ahead of me.
Who helped you?
The two people who have helped me the most have been my education advisor, Mike Egan, and my track coach, Paul Olsen.
Egan is all nice and bubbly when you first meet him, which is great since his positive vibes just rub off on you every day. Yet, as a professor he only wants the best out of you and will push you to your limit mentally and emotionally only to ensure that you are going to be the best possible math teacher you can be. He instilled in me that teaching should never be taken lightly, and that if you do, then you are in the wrong major. He was the one professor who made me want to always get better and learn the most so I could be the best possible teacher.
Outside of the classroom and on the track, I was pushed to another limit, a more physical limit. Ols has this notion of living by philosophies on the track team, instead of rules. Our biggest and most memorable one is that we 'celebrate life.' Things can happen in life that might limit our ability to perform on the track, but no matter what, we celebrate life and know that the times, heights and distances will follow. Overall, both of these men have helped shape me to be the man that I am now, both in the classroom and out on the track.
A peak experience?
My peak experience came in my junior year when I went to Jamaica on a study abroad trip. We taught in Kingston for a week, and it was the best experience of my life! The environment, culture and people were amazing and made that trip one I will never forget! I would definitely go back and visit or teach there again if I had the chance.
What did you learn about yourself that has surprised you?
I learned that I can manage my time very well. This was something that concerned me since I knew I would not have my parents on my case about schoolwork and getting it done on time. Even with two jobs and a varsity sport, I learned how to manage my time and succeed in everything I was doing.
What will you miss the most?
I will honestly miss my teammates on the track team the most. We are just one huge family that has been through a lot together. We have always been so close to winning a conference title, and then this past indoor season, it happened. We had T-shirts made for the team. On the back it states, 'Inspiration is contagious.' This is on there because we all fed off of each other's energy to have huge personal bests that ultimately won us an indoor conference title. The men that made up this team are ones that I will never forget, and some that I will be friends with for a lifetime.
Advice for the Class of 2020?
This is where you will meet some of the people that you will be friends with for the rest of your life. So get out there, have fun and make those friends that will always be by your side. Never put anything off because time will get away from you, and sooner or later you will be writing one of these and your four years at Augustana will have to come to an end.
"Kyle is a decathlete on the track team, arguably the most demanding test of abilities and character in the sport. This two-day competition demands every kind of physical ability: speed; strength; endurance; and skills in throwing, jumping, pole vaulting and hurdling. Just as important as those physical abilities is the capability to work independently because there are so many events to cover. And maybe above all that is the requirement for extraordinary emotional stability. Kyle moves from one event to the next with only a 30-minute interval, and the success or failure of the previous event must not affect the performance of the next. Positive thinking is a necessity, and 'forgiveness' and 'redemption' (if you will) force him to focus on the present. That is about more than athletic success; that's about character. No wonder Kyle's teammates elected him to be a captain on this 100-man team. Kyle has modeled 'inspirational-level' commitment to his athletics and academics and has achieved great success in the classroom and on the athletic field. For all these reasons, Kyle was a major factor in this winter's conference championship in indoor track. And, for all these reasons, he will be a superior math teacher and coach."