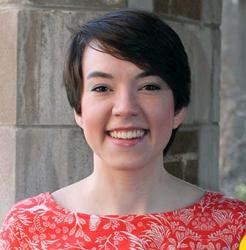 More Than I Imagined
Seniors reflect on accomplishments and look ahead
​Leah Jo Shelton
Graduation year: 2016
Majors: Religion and communication sciences and disorders (CSD)
Minor: Greek for New Testament Studies
Activities: Micah House Intentional Community, Braking Traffik: Any Kid Anywhere Project, Interfaith Club
Internships: I interned during the summer of 2015 in Washington, D.C., at the Evangelical Lutheran Church in America Legislative Advocacy Office. One of my favorite parts was researching for my Senior Inquiry in the Library of Congress where I met a librarian who took me (though somewhat against the rules) back to the stacks of books on New Testament Studies — a religion junky's dream come true!
Post-grad plans: I plan to eventually get a master's, most likely in religion, and am looking at Harvard Divinity School as a viable option. I'm also in the interview process for a management position at Target. One plan that is secure is that I'll be with friends and family as I get married to my best friend at the best New Year's Eve party ever.
Why Augustana?
The personal greetings from admissions and the CSD department during my visits were large factors in my decision.
Are you where you thought you'd be four years ago?
If a constant hunger to learn more about religion equates to becoming a bilingual speech therapist, then yes! I'm actually nowhere near where I planned to be; in fact, I question daily where it is that I actually am, but I couldn't be more satisfied with the growth I have seen in myself during the past four years.
Who helped you?
All of the faculty in the religion, CSD and Classics departments have in some way helped me on my journey. I want to specifically thank Drs. Allison Haskill and Eric Stewart. Dr. Haskill welcomed me to CSD with open arms and then challenged me to integrate my learning from both of my majors as I explored where my passions might take me. Eric Stewart has been my advisor, life coach, personal comedian and the one who originally lit the brain-consuming fire of learning about religion when I didn't even realize the spark existed.
A peak experience?
The moment when I realized that I had found where my voice fit into the conceptual storm of my Senior Inquiry is a moment I hope to never forget. I was able to use my critical-thinking skills in order to analyze dense arguments in search of my response to some of the top scholars in the field of religion. I found one signpost on the journey of living a life well-lived.
What has surprised you?
I learned that I could handle so much more than I thought I could. I was highly involved, had heavy course loads, and saw my friends as much as possible. It wasn't always easy, and things didn't always go the way I had hoped. But my involvement and my setbacks helped me realize that I am resilient and can handle what life throws at me.
How did you use your Augie Choice?
I used it to keep myself afloat in D.C. — what an expensive place! I'll also use part of it to study abroad in Greece after graduation.
What will you miss the most?
I'm afraid to even think about how much I will miss my core friend group here, including the professors. Even on the rough days, they always manage to make me belly laugh and remind me that good exists in the world — and it's worth the fight.
Advice for the Class of 2020?
Learn how to think critically. The confusion of learning is where the fun, and work, happen. Learn to think critically and teach someone else how to; you'll change their perspective, and they'll change yours.
"While Leah was a competent student when I first met her during her first year, she has grown into an excellent student, capable of asking big questions and understanding them within broad frameworks. Her Senior Inquiry, which will be presented at the Midwest regional meeting of the American Academy of Religion, treats questions related to how religious groups might understand their texts in ever more just ways. More than perhaps any other advisee I have been privileged to work with at Augustana, Leah has maximized her college experience."