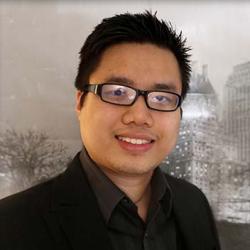 More Than I Imagined
Seniors reflect on accomplishments and look ahead
​Long Nguyen
Graduation year: 2016
Majors: Applied mathematics and economics
Activities: Photography Club, Augustana Photo Bureau, WAUG, math tutor
Internships: Summer research in biostatistics at Baylor College of Medicine in Houston, Texas
Post-grad plans: I plan to obtain my master's degree in statistics at Miami University in Ohio. After Miami University, I will move on to get a Ph.D. in statistics to become a college professor.
Why Augustana?
When I made my decision, affordability was a big factor. Augustana offered me the best financial aid package.
Are you where you thought you'd be four years ago?
Four years ago, I wanted to become an actuarial analyst. However, during my time at Augustana, I realized that I want to be a part of the community that creates knowledge. Thus, becoming an actuary no longer aligned well with my values and interests. My conversations with various professors at Augustana have helped me in changing my plan and being comfortable with where I am heading now.
Who helped you?
I credit a lot of my success to my professors, especially Rowen Schussheim-Anderson in the art department, Dr. Chris Strunk in geography, Dr. Tristan Coughlin in economics, Dr. Mariano Magalhães in political science, and all of the faculty in the math and computer science department. They have not only been my professors but also my mentors in life and my guardians during hardship. Because I can't always ask for help from my parents, who live about 10,000 miles away in Hanoi, Vietnam, whenever I need guidance, I came to my professors for support and wisdom, and they have never let me down.
A peak experience?
It was my summer research in Houston, Texas. Being able to immerse myself in a great research lab with great researchers was a wonderful learning experience. This experience affirmed my desire to get into graduate school.
What has surprised you?
I have learned to be patient with myself. I made multiple mistakes, and I learned to not regret them so much because all of them were learning experiences. I also learned to open myself up to those who want to support me. I used to be a shy and skeptical person, but now I have been able to make and maintain multiple relationships with those I never imagined I would have four years ago.
How did you use your Augie Choice?
To pay for my living expenses during my internship at Baylor College of Medicine.
What will you miss the most?
I will miss my conversations with my professors very much. I plan to call them every now and then to catch up after I leave.
Advice for the Class of 2020?
In order to grow up, you need to be at a distance from your comfort zone. Be it your home, your dorm room, your city and so forth. Your path will not be in front of you right away, so be critical of what seems appealing and easy as opposed to finding what is actually right for you.
"Long is a very talented student with an insatiable curiosity. He has taken advantage of every opportunity that presented itself here at Augie and created opportunities for himself when none existed. He has accomplished things well beyond even what we expect from an exceptional student, often in the face of adversities that none of us could imagine facing. I have no doubt that Long will continue to accomplish great things!"